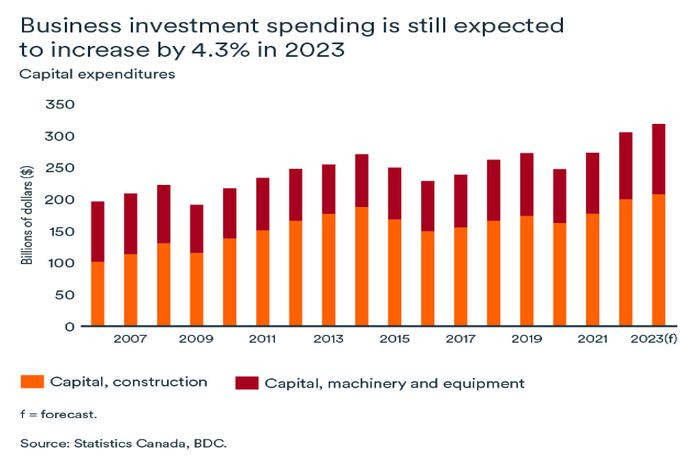 By BDC
MONTREAL, Canada – Data for the last quarter of 2022 supports a decision by the Bank of Canada this year to pause interest rate hikes. Canadian real GDP stalled in the last quarter of 2022 (+0.0% from Q3) bringing Canada's growth for all of 2022 to 3.4 percent.
Canadian real GDP growth reached 0.3 percent in January, reversing a 0.4 percent decline in December, according to Statistics Canada's preliminary estimate. The rebound in growth and continuing strong labour market raised hopes among analysts that the country could avoid a recession.
Bank of Canada keeps policy rate on hold
Despite interest rate hikes on the horizon in the US, the Bank of Canada is unlikely to raise interest rates again. At the last rate announcement on March 8, it held the policy rate at 4.5 percent.
January inflation came in at 5.9 percent, which was actually lower than many forecasters, including the central bank, had expected. Core inflation measures, which are favoured by the bank because they're less volatile, also came in lower. The increase in the consumer price index over three months fell below 3 percent.
This downward trend should continue in the coming months, which would temper Canadians' expectations for price and wage growth in the coming year.
Consumption picked up, but let's not get too excited
Households started spending again in the last three months of 2022. After a decline over the summer, consumption has recovered to an annualized rate of 2.0 percent. Spending on services continued to support the economy but began to slow in favour of a rebound in purchases of durable goods.
The easing of supply difficulties at long last in the vehicle market allowed manufacturers to meet consumer demand. Despite rising interest rates, vehicle purchases soared in the fourth quarter, reflecting pent-up demand not a long-term trend.
Consumer spending on goods and services is expected to slow in the coming months.
Businesses are still holding-off
While businesses will have benefitted from the rebound in consumer spending, investment slowed in the final quarter of 2022. Investment in machinery, equipment, commercial buildings and intellectual property slowed for the first time since the second quarter of 2020, the heart of the first wave of COVID-19.
Overall for 2022, business investment grew by a solid 6.4 percent. According to the latest data from Statistics Canada, Canadian businesses as a whole are still planning to increase their spending on physical capital (construction, machinery and equipment) in 2023, but at a slower pace, 4.3 percent.
Another piece of good news was a decline in inventories. After two consecutive quarters of inventory accumulation at record levels, inventories were revised downward before year-end.
Employment is slowing
Employment growth in Canada continued in February, albeit at a modest pace. Last month, 22,000 new jobs were added, keeping the unemployment rate at a very low 5.0 percent.
Job vacancies were still high in December at around 850,000. The economic slowdown should reduce job openings despite a continued high rate of retirements. (Almost 265,000 Canadians left the labour market for retirement between February 2022 and February 2023.)
The latest employment slowdown and declining inflation data should start to ease wage pressure in Canada in coming months. However, for now, annual growth in average Canadian hourly earnings rose to 5.0 percent in February.
The impact for your business
It's unlikely the Bank of Canada will raise the policy rate this year, although it remains a possibility. Despite this, the slowdown in demand will continue in the coming months. Households and businesses will feel the impact of past rate hikes because it takes about 18 months for them to work their way through the economy.
The Canadian labour market continued to show solid growth in early 2023, which should further dampen recession fears. Total compensation continues to grow in Canada and domestic demand rebounded in the last quarter of 2022.
Most Canadian companies are still well-positioned to weather the expected slowdown. Despite tighter credit conditions, investment is expected to increase this year but at a slower pace than in past years. Focusing on productivity through investment is beneficial to businesses through all economic cycles.