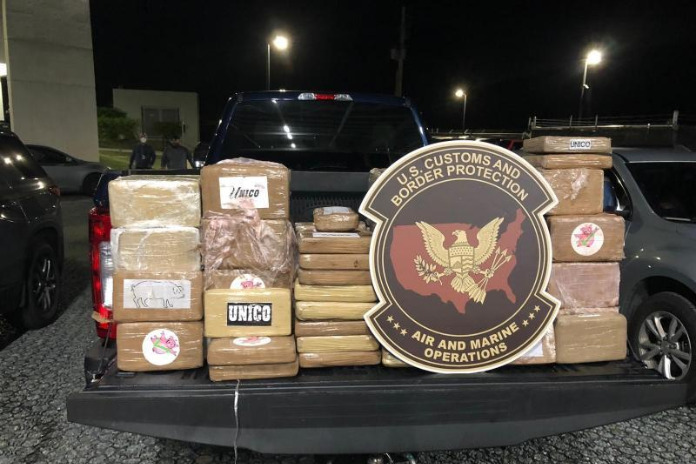 FAJARDO, Puerto Rico – US Customs and Border Protection (CBP) Air and Marine Operations (AMO) agents interdicted last Thursday evening 450 pounds (204 kilos) of cocaine jettisoned from a vessel with three occupants near the island of Culebra. The estimated value of the seized narcotics is $ 5.5 million.
"Our vigilance and sustained efforts continue to produce significant results," stated Johnny Morales, director, Air and Marine Operations for the Caribbean Air and Marine Branch. "We leverage our advanced aeronautical and maritime capabilities to detect and interdict illegal incursions throughout our coastal borders."
On the evening of January 7, the crew of a Puerto Rico National Guard (PRNG) helicopter working along with the Fajardo and St Thomas AMO Marine Units detected and interdicted a 25 to 30 feet single-engine "yola" type vessel, with three persons visible on board near Culebrita Island.
A total of seven bales with contraband were recovered from the water. A Marine Interdiction Agent Emergency Medical Technician provided assistance to one of the vessel occupants who sustained injuries during the interdiction.
Homeland Security Investigations (HSI) and the Drug Enforcement Administration (DEA) assumed custody of the contraband and the individuals for investigation and prosecution as part of joint efforts under the Caribbean Corridor Strike Force – an initiative sponsored by the Department of Justice's Organized Crime Drug Enforcement Task Force.
AMO safeguards our Nation by anticipating and confronting security threats through our aviation and maritime law enforcement expertise, innovative capabilities, and partnerships at the border and beyond. With approximately 1,800 federal agents and mission support personnel, 240 aircraft, and 300 marine vessels operating throughout the United States, Puerto Rico, and US Virgin Islands, AMO conducts its mission in the air and maritime environments at and beyond the border, and within the nation's interior.