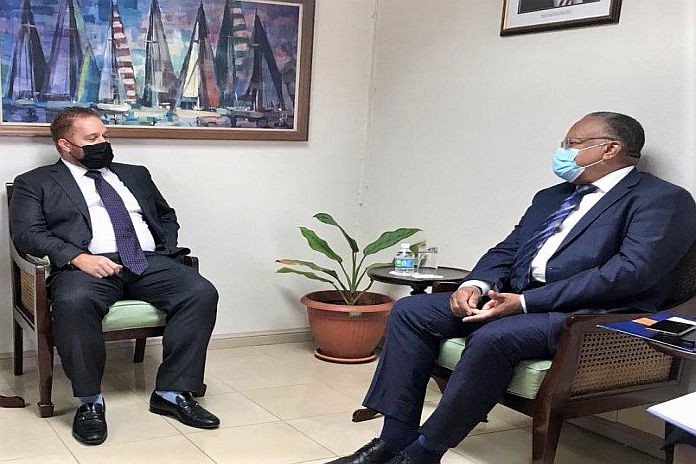 By Sheena Forde-Craigg
BRIDGETOWN, Barbados, (BGIS) — The Ansa McAl Group of Companies is committed to its diverse range of industries here in Barbados, which employs over 700 employees.
Chief Executive Officer (CEO), Anthony N. Sabga III, stated this during a recent courtesy call on minister of foreign affairs and foreign trade, and senior minister coordinating for all social and environmental policy, Senator Dr Jerome Walcott at the ministry's office, Culloden Road, St Michael.
Sabga pointed out that the 140-year-old conglomerate saw itself as a local entity. "We don't see ourselves as a foreign company; we see ourselves as Barbadian. The Ansal McAl group, we've been here a very long time and we are very much committed to the people of Barbados," he said.
Minister Walcott expressed government's appreciation to Sabga for including Barbados in the donation of 1,000 tablets to the region as part of the Ansa McAl Foundation's Social Responsibility project.
He also commended the company for its commitment to maintaining a regional presence by investing in the larger and smaller territories in CARICOM, and congratulated Sabga for recently receiving an international award for Best Corporate Governance for a Conglomerate in the Caribbean, from the Ethical Boardroom, a London-based organisation.
The two officials touched on several topics, including COVID-19, regional integration, the CARICOM private sector organisation, distribution chains, electric vehicles, renewable energy, inter-island transportation, front of packaging labelling and health care products.
Also present during the courtesy call were the director of foreign trade in the ministry, Kay Sealy; senior foreign service officer, John Blackman; foreign service officer, William Clarke, and Ansa McAl Group of Companies, chief legal and external affairs officer, Frances Bain-Cumberbatch.
Ansa McAl (Barbados) Ltd. includes Trident Insurance, ANSA Motors (formerly MQI), ANSA Merchant Bank (formerly Consolidated Finance), Standard Distributors, Bryden Stokes Ltd., Brydens Xpress and Retail, and Berger Paints.