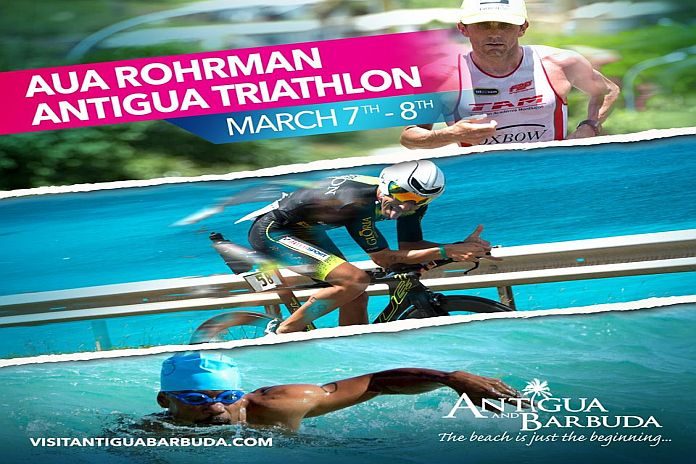 By Caribbean News Global

ST JOHNS, Antigua – The AUA Rohrman Antigua Triathlon, hosted in scenic Antigua and Barbuda every year attracts international pro competitors like New Zealand's Andrea Hewitt and French reigning triathlon champion Arelien Raphael.
The Rohrman Triathlon is an essential component of Antigua and Barbuda's sports tourism product. Antigua and Barbuda is best-known for their friendly and welcoming people, pink and white-sandy beaches, crystal clear waters and the most satisfying and enjoyable climate in the world. The twin islands of Antigua and Barbuda where the beach is just the beginning is surrounded by brilliant turquoise waters, lush scenery; and the Cool Ocean breeze is charming is a favourite tourist destination, accessible via direct flights from the UK, USA, and Canada.

The triathlon March 7- 8, 2020, in Antigua and Barbuda, Two islands; One paradise; is dedicated to the memory of the late Jonathan Rohr, a former AUA student.
This one of a kind AUA Rohrman Antigua Triathlon features; Two Days; Two Islands; Two events.
On Saturday, March 7, the AUA Rohrman Antigua, will feature ten Triathlons. The main race is the Olympic distance triathlon.
AUA is the title sponsor of the Rohrman Antigua. The American University of Antigua (AUA) College of Medicine is an institution dedicated to creating future generations of physicians that serve the communities they represent. Founded in 2004, AUA has accomplished more than some schools have in decades. AUA leads the way in addressing the projected physician shortage, especially in the areas of primary care, family medicine, and internal medicine.
On Sunday, March 8, a swim and fun run will be held at Diana Beach in Barbuda along with a 4k and 10k walk/run.
The Jumby Bay Fund Rohrman Barbuda; a non-profit association led by a board of directors comprised of Jumby Bay island homeowners volunteer their time and energy. Charitable projects are direct recipients of 100 percent of the contributions from donors.
Jumby Bay Fund is the title sponsors and chief partners of the Rohrman Barbuda, established in April 2014 to support a wide array of charitable projects in Antigua. Their mission is to ensure that vital community, conservation, and educational needs are identified and addressed; committed to providing assistance to organizations, programs and projects which benefit and enhance Antigua and Barbuda.
The AUA Rohrman Antigua returns on Saturday March 7th 2020 and the Jumby Bay Fund Rohrman Barbuda on Sunday March 8th 2020. Registration is now open for the AUA Rohrman Antigua at https://raceroster.com/events/2020/26909/aua-rohrman-triathlonRegistration for the Jumby Bay Fund Rohrman Barbuda at https://raceroster.com/events/2020/27661/jumby-bay-fund-rohrman-barbuda

Posted by AUA Rohrman Triathlon Antigua on Thursday, October 24, 2019