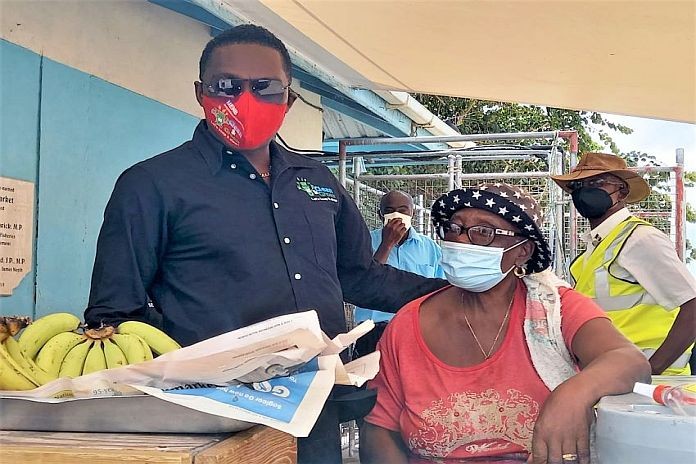 By Julia Rawlins-Bentham
BRIDGETOWN, Barbados (BGIS) — Government's move to amalgamate the blue and green economies will redound to the benefit of the country.
Minister of the environment and national beautification, Adrian Forde, made this assessment following a tour of the Consett Bay, Speightstown, Payne's Bay, Millie Ifill and Berinda Cox Fish Markets on Wednesday.
He drew particular reference to what he described as the "quiet amalgamation" of the National Conservation Commission (NCC), the blue economy and the ministry.
"There must be a … seamless transition between the two. There must be a marriage and a co-existence between the two ministries and entities," he said.
Such, cohesiveness, he said, allowed for the NCC to remove "stuff" from the markets, and be operationalised as a vehicle in the battle against removing influxes of sargassum seaweed from affected beaches.
Forde noted that the sargassum could also be used by the NCC for composting in the propagation of plants.
"I want it to continue like this because there are a lot of things that the NCC can do, not only in terms of the markets, but in terms of fisheries, the boardwalks, to help clean the boardwalks. So, I will be looking at the ability to have two entities form that symbiotic relationship, and to exist as one…," he stated.
Noting that there was a lot potential in the ocean, the Minister added that Barbados was also seeking to be a leader in CARICOM as it relates to biodiversity beyond its national jurisdiction.
He explained that as much as 90 per cent of unclaimed waters contain "a rich oasis of biodiversity that is untapped".
Forde further stated that Barbados, as a small island developing state, along with over 100 countries, was prepared to answer the call to lead the fight in preserving biodiversity and protecting the reefs, flora and fauna of the marine space.
He added that work would also continue with the Nature Conservancy and the debt for nature swap, which articulated a firm commitment from government to preserve the island's natural environment and ensure its viability and sustainability.
At the conclusion of the tour, minister Forde, commended the work done by minister Kirk Humphrey, especially as it related to improvements at the markets to bring them in line with phytosanitary international standards. He added that he was also looking forward to completing the upgrades at the other markets.
During the visit to the markets, minister Forde saw first-hand the upgrades that were carried out, and other areas that required improvements, and interacted with staff and customers.