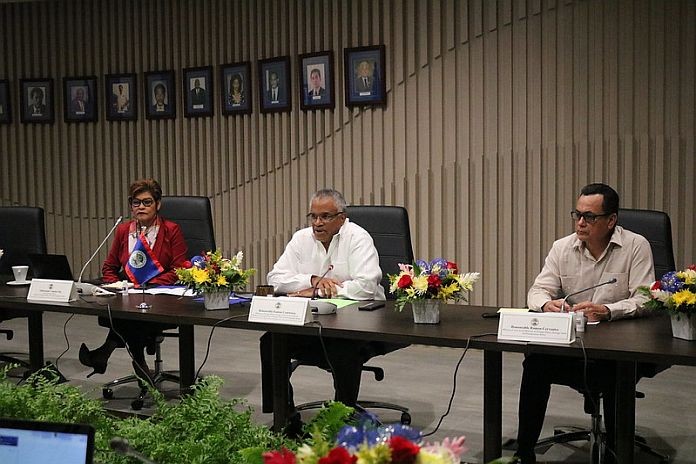 By Government Press Office | BELIZE
BELMOPAN, Belize – Eamon Courtenay, minister of foreign affairs, foreign trade and immigration, on Wednesday welcomed H.E. Rodolfo Solano Quirós, minister of foreign affairs and Worship of the Republic of Costa Rica, to the ministry of foreign affairs and foreign trade at the Leigh Richardson Building in Belmopan.
During his visit, H.E. Solano Quirós and minister Courtenay agreed to pursue tangible areas of political dialogue and international cooperation including exploring new areas of generating foreign trade, agriculture cooperation, foreign direct investments and improving the human development index. Discussions were also centered on Belize's CARICOM chairmanship, SICA and Central America affairs, tourism, environment and climate change, food and animal health safety, vocational-technical training, among others.
Foreign minister Courtenay and foreign minister Solano Quirós signed Joint Declarations for the Establishment of Strategic Alliance for Comprehensive Cooperation and the Preservation of the Oceans and Seas, respectively. Similarly, both ministers signed Memoranda of Understanding on Climate Change Cooperation and Tourism.
Foreign minister Courtenay was accompanied by Ramon Cervantes, minister of state; ambassador Amalia Mai, chief executive officer; Ayesha Borland, director of international affairs (policy); Orla Kantun Coleman, director of international affairs (Cooperation); and Emil Waight, foreign service officer.