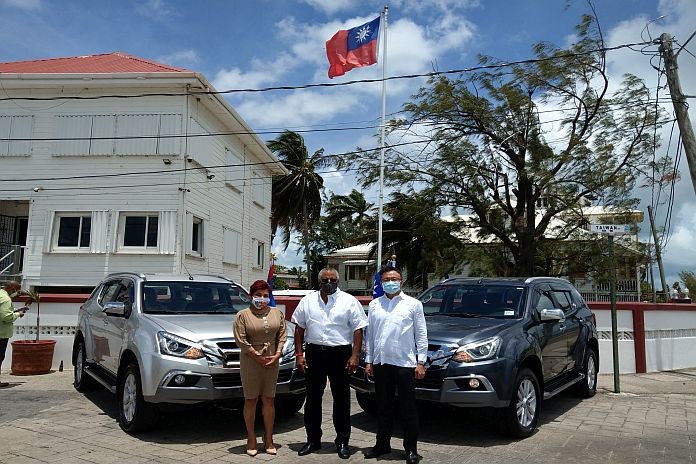 By Government Press Office | BELIZE
BELIZE, Belmopan – Ministry of foreign affairs, foreign trade and immigration received two utility vehicles from the Embassy of the Republic of China (Taiwan) as part of the deliverables of the regional support programme "Strengthening of the Ministries of Foreign Affairs of the Central American Countries."
Eamon Courtenay, minister of foreign affairs, accompanied by ambassador Amalia Mai, chief executive officer in the ministry, received the donation from H.E. David Kuan-Chou Chien, ambassador of Taiwan to Belize, at the Embassy of (ROC) Taiwan in Belize City.
Minister Courtenay thanked ambassador Chien for this tangible form of cooperation. The donation comes at an opportune time as the ministry prepares for its busiest month of the year, September, to host national celebrations and related diplomatic activities.
On behalf of Taiwan's Ministry of Foreign Affairs (MOFA) ambassador Chien reiterated Taiwan's continuing commitment to working with the ministry of foreign affairs, foreign trade and immigration to support Belize's foreign policy, while further strengthening the mutually beneficial and productive partnership between the two countries.
Belize and Taiwan continue to enjoy cordial diplomatic relations for more than 30 years.