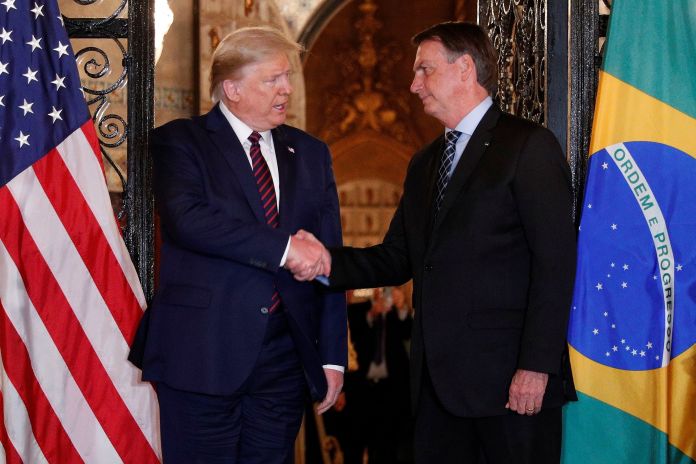 By Caribbean News Global

Sao Paulo, Brazil (teleSUR) — Brazil has the third most confirmed cases of COVID-19 in the world, surpassing for the first time the barrier of 1,000 daily deaths from the disease and registering 1,179 new cases on Tuesday. Brazil is now the world's fastest-growing coronavirus hotspot, accounting for 13 percent of all new cases globally in the past week.
The skyrocketing numbers worry US president Donald Trump said on Tuesday that he was mulling on a travel ban on Brazil. "We are considering it," Trump said, adding: "We hope that we're not going to have a problem. […] I worry about everything, I don't want people coming in here and infecting our people," Trump said, "I don't want people over there sick either."
Brazil has reported 271,628 infections since the COVID-19 pandemic outbreak in the country, according to the last official balance, only behind the US and Russia. This occurs while the ministry of health is adrift, with no one in charge.
"To lose two health ministers will really have a dramatic impact on the country's ability to contest the epidemic," said Albert Ko, a professor of epidemiology at the Yale School of Medicine, blamed with extensive experience working in Brazil added equated to "the lack of leadership and poor governance."
Brazilian president Jair Bolsonaro is looking for a new minister who supports new economic activities, repealing quarantines, and who takes a pro-chloroquine stance.
Chloroquine still lacks sufficient studies in the scientific world to support its effectiveness.
Three of Brazil's main medical institutions have advised against the use of chloroquine to treat patients with COVID-19, despite Bolsonaro's order to increase production of this medicine.
Opposition to chloroquine, an antimalarial drug that can have serious side effects, was highlighted in a joint statement by the Brazilian Association of Intensive Care Medicine, the Brazilian Society of Infectious Diseases and the Brazilian Society of Pneumology.