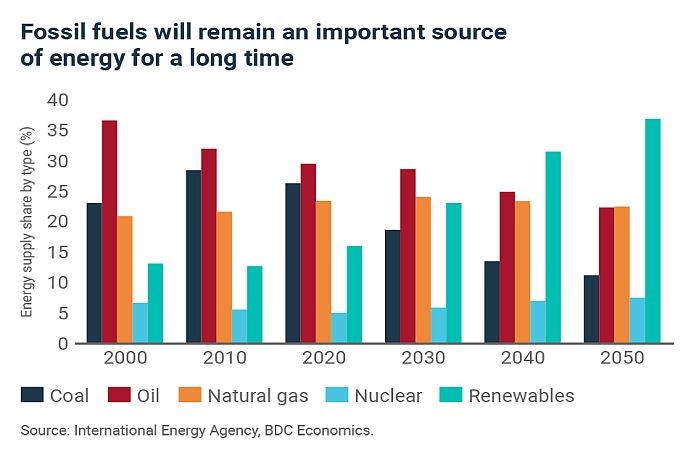 By BDC
MONTREAL, Canada – World leaders have returned from the 2021 Glasgow Climate Change Conference, or COP26, where many reiterated their commitment to achieving a net carbon-neutral economy.
However, there is little room for error if this goal is to be achieved by 2050. A successful energy transition will not be painless and will bring a host of challenges for societies. As we navigate through the necessary changes, what impact will the transition have on businesses and the economic environment?
Over the past few months, energy prices have been rising at a rapid pace. The price of natural gas has spiked, and electricity, oil and coal prices have also surged. Most of the current energy crisis, especially in Europe, can be explained by an imbalance between supply and demand as economies reopen from the COVID-19 pandemic.
However, the energy crisis also highlights the many challenges that accompany the fight against climate change. These include geopolitical tensions, technological limitations and financing issues.
Getting off fossil fuels – more complicated than expected?
Renewable energy is often seen as inexhaustible, but it is constrained by one important element – the weather. The variability of wind and rainfall have complicated renewable energy production this summer. A lack of wind for turbines in Europe and precipitation to power hydroelectric plants in China and South America are examples of how weather can constrain renewable energy supply and have contributed in part to the current crisis. Significant investments in research and development will be required to optimize the use of these new technologies and increase storage capacity.
Today, renewable energy supply falls far short of total global demand. As a result, the use of fossil fuels, including coal, the most polluting energy source, is increasing. Coal-fired power plants are running at full capacity.
In fact, fossil fuels account for 80 percent of the world's energy production, while renewables account for only 15 percent. It will take time and major investments to reverse this imbalance.
Decarbonization comes into play
The use of oil and other forms of hydrocarbons will decrease in the coming years, but their share of the world's energy supply will remain important for a long time to come.
Knowing that demand for polluting energy sources will diminish, and fearing they will be stuck with assets that are less and less attractive to the markets, many financial institutions are seeking to decarbonize their portfolios. Meanwhile, several countries, including Canada, have pledged to completely end foreign financing of fossil fuel projects that don't include carbon capture technologies by next year.
This type of initiative is necessary in the fight against climate change, but a slowdown in fossil fuel investment could undermine markets in the longer term. More restricted access to fossil fuels will continue to push prices higher.
A costly transition?
The recent surge in energy prices is pushing up inflation. Higher prices at the pump obviously reduce the purchasing power of consumers, but also the profit margins of companies.
In its latest Monetary Policy Report, the Bank of Canada said it expects prices to fall once high energy demand in the winter has passed and production starts to increase again. Until then, inflation is expected to remain elevated in 2022, given high energy costs. Indeed, the central bank expects about one-third of inflation to be driven by energy prices.
Bottom line
An energy revolution is needed to combat climate change, but the transition will undoubtedly lead to disruptions, especially in the markets.
The energy transition comes with a realignment of investments towards clean technologies at the expense of their more polluting counterparts. The difficulty is that fossil fuels still represent a huge share of the world's energy usage.
We cannot change our consumption patterns overnight and the path to carbon neutrality in 2050 is narrow. As a result, expect volatile episodes in energy markets between now and then.
Source: BDC