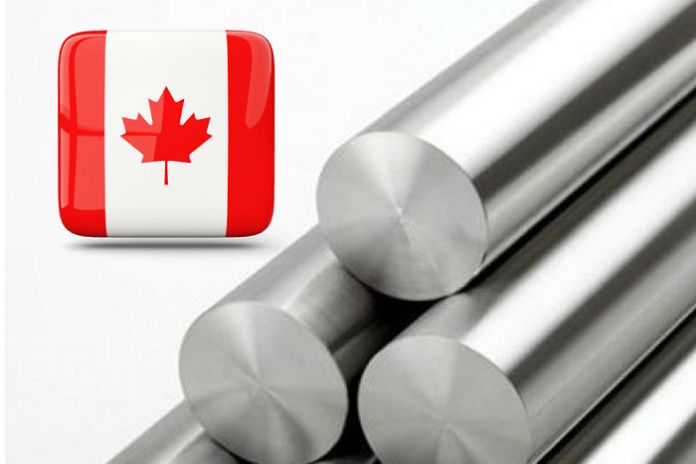 By Caribbean News Global

OTTAWA, Canada – On August 6, US president Donald Trump announced plans to impose a ten percent tariff on Canadian aluminum imports.
"In response to the American tariffs, Canada intends to swiftly impose dollar-for-dollar countermeasures," said deputy prime minister Chrystia Freeland in a statement late Thursday, promising more information about the retaliatory measures "shortly."
The deputy prime minister, Chrystia Freeland, issued the following statement on the decision by the United States to impose tariffs on certain aluminum products from Canada:
"The August 6 announcement by the United States to impose tariffs on certain Canadian aluminum products, citing national security concerns, is unwarranted and unacceptable.
"Canadian aluminum does not undermine US national security. Canadian aluminum strengthens US national security and has done so for decades through unparalleled cooperation between our two countries. Canada is a reliable supplier of aluminum for American value-added manufacturers. Aluminum trade between Canada and the US has long been mutually beneficial economically for both countries, making the North American aluminum industry as a whole more competitive around the world.
"In the time of a global pandemic and an economic crisis, the last thing Canadian and American workers need is new tariffs that will raise costs for manufacturers and consumers, impede the free flow of trade, and hurt provincial and state economies.
"Further, with the new NAFTA having come into force on July 1, now is the time to advance North American economic competitiveness — not hinder it. Through robust, new rules of origin for automobiles, the new NAFTA ensures 70 percent of the aluminum purchased by North American automakers is produced in North America.
"Canada's innovative aluminum industry provides approximately 10,000 well-paying direct jobs in primary aluminum production and supports tens of thousands more in related downstream sectors. The government of Canada will always stand up for our aluminum workers across the country. We did so when the US imposed aluminum tariffs in 2018 and we will stand up for them again now. I know we can once again count on a Team Canada approach as we confront these unjustified tariffs on Canadian aluminum.
"In response to the American tariffs, Canada intends to swiftly impose dollar-for-dollar countermeasures."
In a statement, president and chief executive officer of the Aluminum Association Tom Dobbins said, "The administration failed to listen to the vast majority of domestic aluminum companies and users by reinstating Section 232 tariffs on Canadian aluminum. After years of complex negotiations and hard work by government, industry and other leaders across North America to make the US-Mexico-Canada Agreement (USMCA) a reality, this ill-advised action on a key trading partner undermines the deal's benefits at a time when US businesses and consumers can least afford it."
The government of Canada on December 10, signed an agreement on amendments to the new North American Free Trade Agreement (NAFTA). The agreement reached said the Canadian government statement is committed to further strengthening the Canadian economy, improving the lives of Canadian families, the middle class and those working hard to join it.
Related
Proclamation on Adjusting Imports of Aluminum Into the United States, reads in part:
"On January 19, 2018, the Secretary of Commerce (Secretary) transmitted to me a report on his investigation into the effect of imports of aluminum articles on the national security of the United States under section 232 of the Trade Expansion Act of 1962, as amended (19 U.S.C. 1862).  The Secretary found and advised me of his opinion that aluminum articles were being imported into the United States in such quantities and under such circumstances as to threaten to impair the national security of the United States.
"In Proclamation 9704 of March 8, 2018 (Adjusting Imports of Aluminum Into the United States), I concurred in the Secretary's finding that aluminum articles were being imported into the United States in such quantities and under such circumstances as to threaten to impair the national security of the United States, and decided to adjust the imports of aluminum articles, as defined in clause 1 of Proclamation 9704, by imposing a 10 percent ad valorem tariff on such articles imported from most countries. I further stated that any country with which we have a security relationship is welcome to discuss with the United States alternative ways to address the threatened impairment of the national security caused by imports from that country, and noted that, should the United States and any such country arrive at a satisfactory alternative means to address the threat to the national security such that I determine that imports from that country no longer threaten to impair the national security, I may remove or modify the restriction on aluminum articles imports from that country and, if necessary, adjust the tariff as it applies to other countries as the national security interests of the United States require."