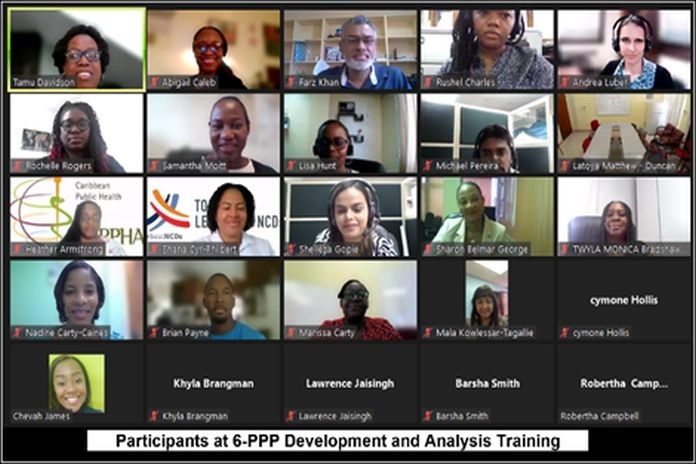 PORT OF SPAIN, Trinidad – From January 10 – 11, and 17 – 18, 2023, the Caribbean Public Health Agency (CARPHA) conducted a virtual training workshop to provide guidance for the development of policy briefs on the elimination of industrially produced trans-fatty acids (IP-TFA) in CARPHA Member States (CMS).
During her opening remarks, Dr Joy St John, executive director, CARPHA, reaffirmed CARPHA's commitment to "support Member States in their respective plans to effectively eliminate partially hydrogenated oils from the region and national food supply by 31st December 2025. A decision arising from the 6th Joint COTED-COHSOD meeting in 2022."
CARPHA's six-point policy package (6-PPP) was instituted in 2017 to promote healthier food environments and food security to address childhood obesity through joint policy action.
This framework includes policy recommendations to address: #1 food labelling; #2 nutrition standards and guidelines for schools and other institutions; #3 food marketing; #4 nutritional quality of food supply; #5 trade and fiscal policies; and #6 food chain incentives.
The workshop sought to increase understanding of policy, policy development and policy analysis; view the core facets of policy development as a tool for the effective management of our food environment; and explain the key policy areas of the CARPHA 6-PPP and dissect the core issues through policy analysis.
Another objective of the workshop was to develop policy briefs under policy point #4 on the elimination of industrially produced trans-fatty acids in CMS. Policies around policy point #4 –   nutritional quality of food supply, are meant to minimise the energy density and unhealthy composition (i.e., foods with high levels of salt, sugar, saturated and trans fats) of pre-packaged/ultra-processed foods. IP-TFA are a significant and preventable contributing factor to the burden of NCDs, specifically cardiovascular disease – the leading cause of death in Latin America and the Caribbean.
The workshop was attended by 29 technical officers from the Ministries of Health, and the attorney general's chambers from 11 CARPHA Member States namely Anguilla, Antigua and Barbuda, Aruba, Barbados; The Bahamas, Bermuda, Guyana, Jamaica, Saint Lucia, St Kitts and Nevis, and Trinidad and Tobago.
Upon conclusion of the training, 6 countries were able to submit draft policy briefs, to date. CARPHA will continue to provide technical support to its Member States as they go through the process of development, finalisation and implementation of policies around the prohibition of production, importation, distribution, sale and use of IP-TFA in foods for human consumption.