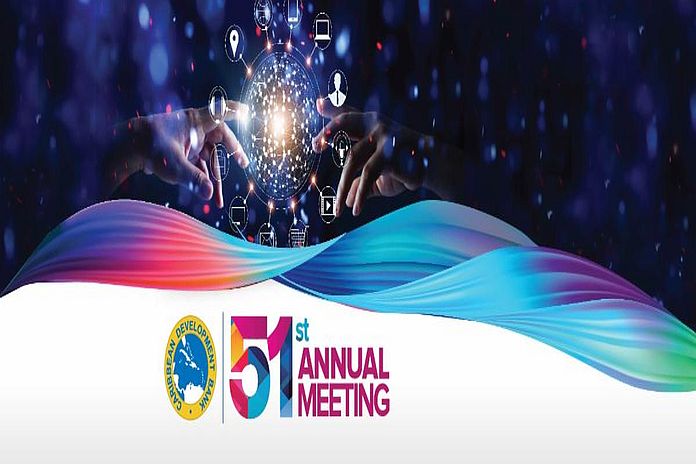 BRIDGETOWN, Barbados – In a world reshaped economically by the COVID-19 pandemic, what should the Caribbean do to advance much-needed climate action and meet their own ambitious climate change goals?
A high-level panel of experts, including government decision makers and development financing partners, will discuss this and related issues on Thursday, June 24 at the second seminar of the Caribbean Development Bank's (CDB) 51st Annual Meeting.
The seminar, entitled 'Climate Action in a Post-COVID-19 Environment' will be streamed live on CDB's Facebook and YouTube platforms, starting at 10:00 am (AST).
Panelists include Grenada's minister for Climate Resilience and the Environment, Senator Simon Stiell and Dominica's minister of Public Works and the Digital Economy, Senator Cassanni Laville.
Ambassador Fiona Clouder, the United Kingdom's regional ambassador for Latin America and the Caribbean for COP26, the United Nations' climate change conference and Maria Shaw-Barragan, director of operations at the European Investment Bank will also participate in the panel.
The discussion will be moderated by Dr Colin Young, executive director of the Caribbean Community Climate Change Centre.
The panel will focus on the needs, challenges, and opportunities with climate change adaptation and mitigation in the Caribbean. It will also explore how the Caribbean countries can develop more strategic partnerships, including with the private sector, and scale up financing to build resilience.
Ahead of the panel discussion, Professor Michael Taylor, Co-Director of the Climate Studies Group Mona at the University of the West Indies, will present key findings from the landmark State of the Caribbean Climate report. The Report was produced with grant funding from the ACP-EU-CDB Natural Disaster Risk Management in CARIFORUM Countries programme which is funded by the European Union and managed by CDB.
Director of the Projects Department at CDB, Daniel Best, highlighted the significance of the of the discourse, noting its relevance to the moment in time as well as the Caribbean as a region.
"Right now, the world is faced with the emergency of the COVID-19 crisis set against a background of urgent need for continued climate action. It is important that we retain our attention on the significant efforts needed by all of us to adapt to and mitigate the impacts of climate change. This is especially critical for the Caribbean, which is one of the most climate vulnerable regions in the world."