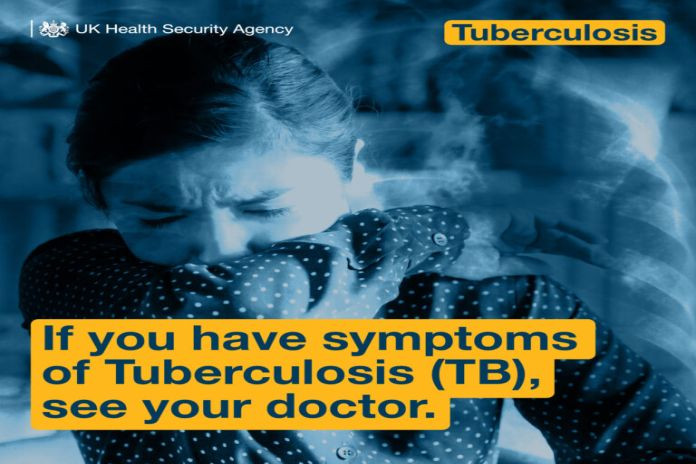 By Caribbean News Global

SWITZERLAND / ENGLAND – Tuberculosis (TB) remains one of the world's top infectious killers, causing 1.6 million deaths each year and affecting millions more, with enormous impacts on families and communities. The COVID-19 pandemic coupled with ongoing crises such as armed conflict, food insecurity, climate change, political and economic instability, has reversed years of progress made in the fight against TB. Last year, for the first time in nearly two decades, WHO reported an increase in the number of people falling ill with TB and drug-resistant TB, alongside an increase in deaths, the World Health Organization (WHO) said, announcing the expanded scope of the WHO Director-General's (DG) Flagship Initiative on tuberculosis over the period from 2023 to 2027 to support fast-tracking progress towards ending TB and achieving Universal Health Coverage (UHC) by 2030.
"TB is preventable, treatable and curable, and yet this ancient scourge that has afflicted humanity for millennia continues to cause suffering and death for millions every year," said Dr Tedros Adhanom Ghebreyesus, WHO director-general. "WHO is committed to supporting countries to step up their response, by expanding access to services to prevent, detect and treat TB as part of their journey towards universal health coverage, and to strengthen their defences against epidemics and pandemics."
The UK Health Security Agency, meantime has noted that TB rates in England remain highest in areas of deprivation and in certain groups living in large urban areas, including vulnerable migrants and people who experience homelessness, contact with the criminal justice system, mental health needs, and/or drug and alcohol misuse.
"Despite an overall downward trend in the number and rate of TB notifications in England during the last 10 years, the rate of decline has slowed in the last 4 years. Unless immediate action is taken, England will fall short of achieving the World Health Organization (WHO)'s End TB Strategy target of 90 percent reduction in people with TB from 2015 to 2035. TB is the second leading infectious killer globally, after coronavirus (COVID-19). The WHO estimates that globally 10.6 million people became ill in 2021, a 4.5 percent increase from 2020," UK Health Security Agency, said in a press release to mark World TB Day.
Dr Esther Robinson, head of the TB Unit at UKHSA, said:
"Tuberculosis remains a risk to some of the most vulnerable people in our society and this data highlights that progress towards elimination has stalled. It is vital that we ensure that everyone has access to a timely diagnosis and effective treatment. This will also help us to get on course to eliminating TB in our communities through strengthening the prevention, detection, and treatment of active TB in higher-risk groups."
UK Health Security Agency pointed out:
"In 2021, the incidence of TB stood at 7.8 notifications per 100,000 people, compared to 8.4 notifications per 100,000 in 2019. Although this is a decline since before the pandemic, in order to hit the WHO elimination target by 2035, we need to see a reduction in TB rates to 1.05 per 100,000. If we continue at the current rate of decline, we will only hit 5.1 per 100,000 by 2035. Provisional data from 2022 indicates we remain off trajectory.
"TB notification rates in England remain highest in large urban areas which are associated with higher levels of deprivation, and in inclusion health groups – a term used to describe people who are socially excluded and typically experience multiple overlapping risk factors for poor health, such as experiencing homelessness or contact with the criminal justice system. TB disproportionately impacts certain people, in part, due to the barriers they may face in accessing the interventions designed to identify clinical onset of TB; access to diagnostic and treatment services; ability to self-administer treatment and attendance at follow-ups."
Health minister Maria Caulfield, said:
"It is vital that we act now to protect the progress that has been made towards eliminating tuberculosis in England over the last decade.
"These figures highlight the importance of recognising symptoms early – if you have a persistent cough that has lasted for three weeks alongside a fever, contact your GP as soon as possible.
"TB is infectious and if not treated can be potentially life-threatening. We also know it disproportionately impacts more vulnerable people, so it's important to be vigilant and act so that anyone can access treatment when they need it."
Related: What is TB and what are we doing to combat it?