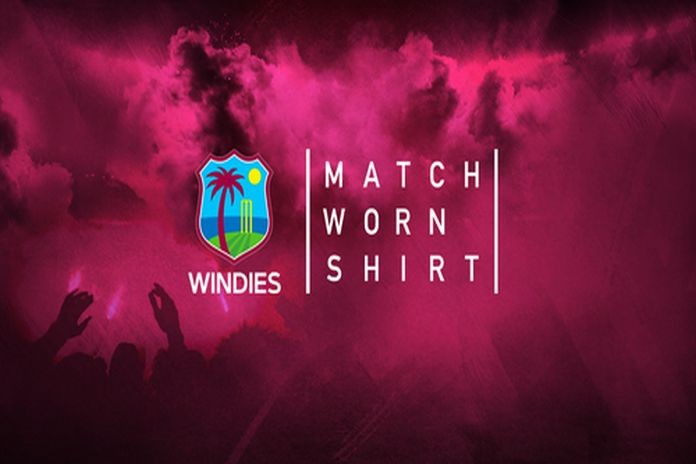 ST JOHN'S, Antigua – Cricket West Indies (CWI) and MatchWornShirt (MWS) yesterday launched a new partnership giving fans the opportunity to bid for and own an authentic worn and signed West Indies Team shirts. The West Indies will be the first international cricket team to give fans the opportunity to own authentic signed team shirts via global digital auctions held on MatchWornShirt.com's website.
Speaking about the partnership, CWI commercial director, Dominic Warne, said:
"Team and players shirts have always been a much-desired piece of memorabilia and for West Indies fans, there is no exception. With West Indies supporters spread across the Caribbean and the world, we believe this partnership with MatchWornShirt provides an exciting and fair platform to bid for and own an official match-worn West Indies shirt signed by one of their heroes, or even the entire West Indies squad. The partnership delivers an engaging, reliable and user-friendly auction experience, accessible from anywhere in the world, with safe and secure delivery to fans' homes."
Starting from the 8 March, fans can bid to own any of the West Indies Test squad's teams shirts from the current South Africa Series, with each shirt individually signed by the respective player. CWI and MatchWornShirt will create auctions to go live with the first ball bowled in a match or shortly after the match has been completed.
In 2023, this will include Test, One Day International (ODI) and T20 International (T20I) matches against India, as well as T20I and ODI matches against England. West Indies fans will not just be able to witness a match-winning moment or performance, they will have the chance to swap shirts with their heroes and own a piece of sporting history.
Fans' desire to own team and player memorabilia continues to rise strongly, in parallel with the growth of live international sports, especially cricket. The first auction will go live to coincide with the start of the second Test Match, South Africa versus West Indies on 8 March 2023 at the Wanderers Stadium in Johannesburg. The first auction will run for two weeks, until 22 March 2023.
To celebrate this new partnership, fans will have the chance to win fast bowler Alzarri Joseph's genuine match-worn and signed shirt from the first Test match when he took his first-ever Test match five-wicket haul for the West Indies. This opportunity will be live on MatchWornShirt's Instagram page from Monday 6 March.
Head of business development at MatchWornShirt, James Flude, commented:
"We have been excited to venture into cricket for a while now and so we are delighted to announce our first substantial partnership with such an iconic international team. The West Indies shirts are globally recognised and have been worn by some of the greatest players ever to play the game – so we are delighted to be bringing them to fans all around the world."