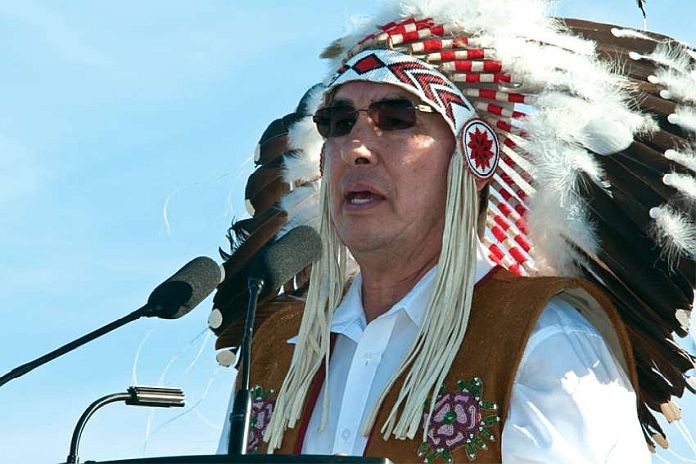 By Michael Swan
TORONTO, Canada (The Catholic Register) – Indigenous delegates to Rome will have at least three hours of direct, face-to-face conversation with Pope Francis spread over four days, topped off with their presence at an hour-long general audience.
Long-time Vatican observer Michael Higgins, principal of St Mark's College and president of Corpus Christi College, both at the University of British Columbia, is betting the Indigenous delegates will get even more time with the Pope than the official schedule allows.
"He tends to exceed the time limits allocated," Higgins said in an e-mail. "He doesn't disrupt the dynamic if he feels the presence of the Spirit."
When US president Joe Biden's recent meeting with Pope Francis ran to 90 minutes it was "considered very extraordinary," he said.
"Many heads of state visiting with him have short visits of 15 to 30 minutes," noted Neil MacCarthy, who is managing communications for the visit on behalf of the Canadian Conference of Catholic Bishops. "Allocating hour-long individual meetings with First Nations, Métis and Inuit delegates, as well as a final audience with all delegates, is a significant commitment."
To maximize the time spent in direct conversation with residential school survivors and others, Indigenous delegations may present Pope Francis with dossiers of information before or after their meetings with him, MacCarthy said.
"We must remember that the December meetings will provide a foundation for the papal visit to Canada," he said.
Though unconfirmed by the CCCB, Radio Canada's Charles Le Bourgeois reports that CCCB vice president and Calgary Bishop William McGrattan, Winnipeg Archbishop Richard Gagnon, Edmonton Archbishop Richard Smith and very likely Regina Archbishop Don Bolen will be representing the bishops on the trip. CCCB president Bishop Raymond Poisson is also expected to attend.
The Assembly of First Nations has revealed that its portion of the delegation will number 13 people, including former Truth and Reconciliation Commissioner Chief Wilton Littlechild. Littlechild was the driving force behind Call to Action #58, one of 94 Calls to Action issued in 2015 when the TRC published its final report. Call to Action #58 asked Pope Francis to apologize on Canadian soil within one year of publication of the TRC final report.
Read the full story here.