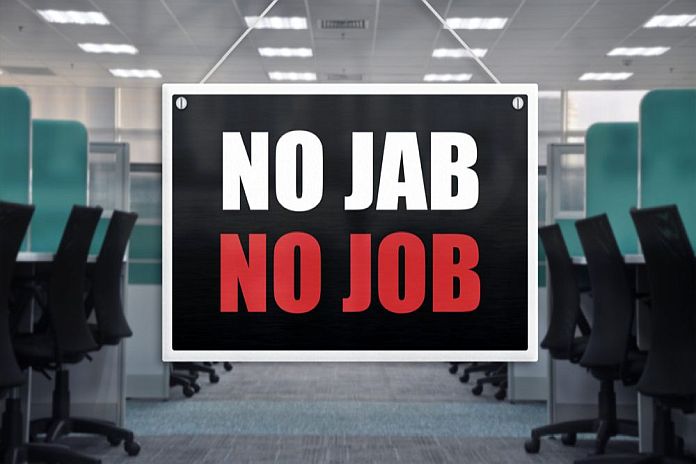 By PYMNTS
Employers are asking applicants to be vaccinated against the coronavirus as a condition of their being hired in increasing numbers, according to a report in The Wall Street Journal.
The percentage of job postings with a vaccination mandate has almost doubled in the last month, according to information from job search site Indeed cited by the news outlet, although that number was in the range of about 1,200 per million listings in the first week of August, compared to 600 per million in July and 50 per million early in February.
In education, the share of jobs requiring vaccination grew from 33 per million in February to 2,166 per million in July. Food service saw the per-million numbers jump from 43 in February to 814 in July, while accounting jobs went from 39 per million in February to 1,184 per million in July and software development went from 4 to 438 per million in the same period.
COVID-19 isn't specifically mentioned in many of the listings, but the job description makes it clear that it's the coronavirus vaccine that employers want their hires to get.
The Delta variant of the coronavirus has led to federal government agencies, McDonald's Corp. and Walt Disney Co., among many others, requiring most, if not all, of their employees to be vaccinated or face frequent COVID-19 tests.
Related: Google Requires Vaccines In Delayed Office Return
Google last month postponed employees' return to their offices until Oct. 18, and when people do come back, they'll have to be vaccinated for COVID-19, Google and Alphabet CEO Sundar Pichai said in a message to workers.
Also read: Broadway Theaters Will Require Vaccines For Audience, Performers And Staff
Meanwhile, The Broadway League announced last month that owners and operators of all 41 Broadway theaters will require vaccinations for audience members, performers, backstage crew and staff for all performances through October 2021.
Readers also liked: Mounting Pressure To Push The Vaccine While Protecting SMBs
Representatives from almost 60 medical groups — such as the American Nurses Association and the American Medical Association — said last month they want to see mandatory vaccination policies for all healthcare workers.
The Department of Veterans Affairs, meanwhile, became the first federal agency to require its employees be vaccinated, demanding 115,000 frontline healthcare workers to be vaccinated against the coronavirus in the next two months, the organization announced last month.