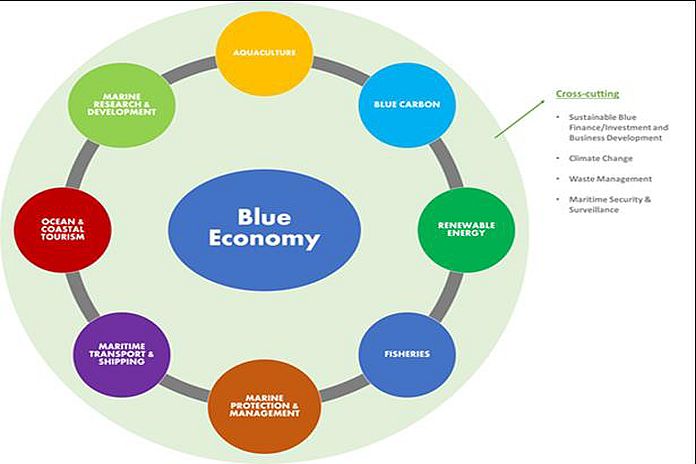 By Government Press Office | BELIZE
BELIZE, Belmopan – Through its multi-sectoral cluster, the ministry of blue economy and civil aviation is embracing a new and inclusive approach to sustainable economic development for healthy marine environments and robust blue economies.
Kennedy Carrillo, chief executive officer in the ministry, informed: "The objective of the cluster is to serve as an advisory body, providing high-level guidance and direction to the ministry during the initial stages of establishing a framework for implementing a sustainable blue economy for Belize."
The cluster has already played an integral role in articulating a clear and impactful vision and mission for Belize's blue economy. Additional responsibilities include its support for the formulation of a coherent and innovative strategic plan for sustainable blue economy management over the next five years. The cluster plays a valuable role in harnessing the expertise from key partners and utilizing the best available knowledge to identify current needs and new economic opportunities in the maritime domain.
Furthermore, the cluster is able to support the wise use and development of Belize's ocean space, while also minimizing ecosystem degradation and enriching the socio-economic benefits for the country and its people.
On July 22, 2021, the cluster met in its 8th session to analyze the current situation of local blue resources and the supporting environment. The baseline for the planning and management agenda was established and the eight main pillars for the strategic management plan have been identified.
To move these potential economic pillars forward, consideration has to be made for the country's obligations and responsibilities based on international, regional and national frameworks for marine and aquatic environmental protection, management and development. Also central to the realization of a thriving blue economy is the stocktaking of current partnerships and opportunities to advance blue economy development, achieve private sector investment opportunities, and create job opportunities for the improvement of life and livelihoods for the Belizean people.
The cluster is chaired by chief executive officer, Kennedy Carrillo. Its membership comprises fishing cooperatives; private sector; international and local marine and aquatic environmental organizations; and key public sector sister ministries and agencies such as the ministry of economic development and BELTRAIDE; the ministry of tourism and diaspora relations; the ministry of sustainable development; Coastal Zone Management Authority and Institute (CZMAI); and the Belize fisheries department.