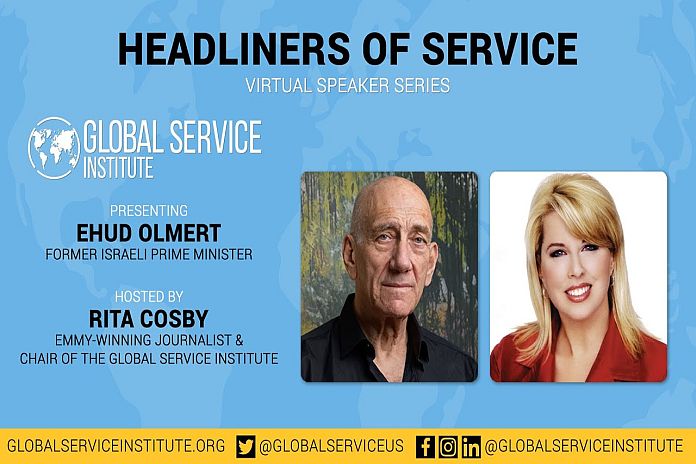 BROOKVILLE, NEW YORK –  Former Israeli prime minister  Ehud Olmert Olmert, who preceded Netanyahu in office, says about president-elect Biden, "I have no fears whatsoever about his presidency as far as Israel is concerned." He further stated, "I hope that on the issue of Iran, (Biden) will have the courage to go forward in the direction that was signaled by president Obama, which made the agreement with the Iranians. That he will make maybe a better agreement with Iran that will deter them from even trying to go further in their nuclear program."
Olmert made these comments during an exclusive live webinar interview November 12, hosted by Long Island University's Global Service Institute conducted by Institute chair and Journalist Rita Cosby.
The former prime minister says of Biden's approach to the Israeli-Palestinian conflict, "Joe Biden's attitude is the right attitude. It is an attitude based on friendship and commitment to the security of the State of Israel. I have no doubt about it." "He is entirely different from Trump, and to be honest and transparent, I prefer Biden's attitude, because it fits in with what I tried to do."
Olmert negotiated in 2008 a failed peace deal with Palestinian Authority president Mahmoud Abbas, and has had continued dialog with the Palestinian leader, even having a high-profile meeting and press conference with him in New York earlier this year.
During the webinar, Olmert acknowledged "Donald Trump was a friendly president to the State of Israel, there is no question about it. We are grateful for him." But he says it's more important that a US leader be good for America. "As much as we are obsessed with our own needs and our own difficulties and our own challenges, we think that it is very important that the president that will be elected to America will be good for America to start with. If he will be good for America, and that's what will be determined by the majority of people voting in America, then he will be good for the world, and then almost inevitably he will be good for Israel."
During the wide-ranging webinar, Olmert was very critical of Netanyahu and hopes his days in office may soon come to an end. "I am not on his side, I am against him. I think that he has been long had to go, and I hope that he will be going soon. I think that he is not the right person at the right time for the right needs of the State of Israel."
Olmert also believes Israel's healthcare can be a model for America's health care system, "President Obama did something absolutely formidable with Obamacare, but it was insufficient."
He also discussed how he believes both Trump and Netanyahu failed as leaders to handle the coronavirus pandemic.Israel is currently experiencing a new increase in cases after a second national lockdown was recently lifted.
Speaking of Netanyahu, "He failed completely in coping, similar to Donald Trump by the way, in coping with COVID-19 and this was a complete failure, a complete inability to manage this in a proper way. "
The full video is here., credited to Long Island University's Global Service Institute.