USA / TAIWAN – March 20-24, 2023, a delegation of members from the Global Taiwan Institute's Task Force on US-Taiwan relations led by Task Force Chair Robert C. O'Brien travelled to Taiwan, accompanied by representatives from GTI.
Over the course of a five-day visit, the delegation met with a wide range of political leaders, academics, and civil society groups. The findings from these meetings will be incorporated into a forthcoming report on expanding the relationship between the United States and Taiwan.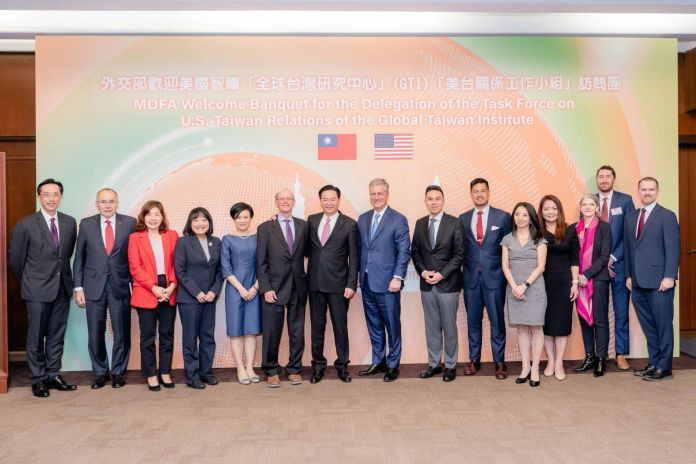 The delegation included:
Robert C. O'Brien, Task Force Chair, Former US National Security Advisor;
Allison Hooker, Former Deputy Assistant to the President and National Security Council Senior Director for Asian Affairs;
Jennifer Hu, Chair of the Board of Directors and Co-Founder, Global Taiwan Institute;
Wallace (Chip) Gregson, Lt. Gen. USMC (ret.);
Kurt Tong, Ambassador (ret.), Managing Partner, The Asia Group;
Stephen Young, Ambassador (ret.);
Lanhee Chen, David and Diane Steffy Fellow in American Public Policy Studies, Hoover Institution;
Ivan Kanapathy, Former National Security Council Deputy Senior Director for Asian Affairs;
Jamieson Greer, Former Chief of Staff, Office of the US Trade Representative;
Shihoko Goto, Director for Geoeconomics and Indo-Pacific Enterprise and Deputy Director for the Asia Program, the Wilson Center;
Marshall Reid, Program Manager, Global Taiwan Institute.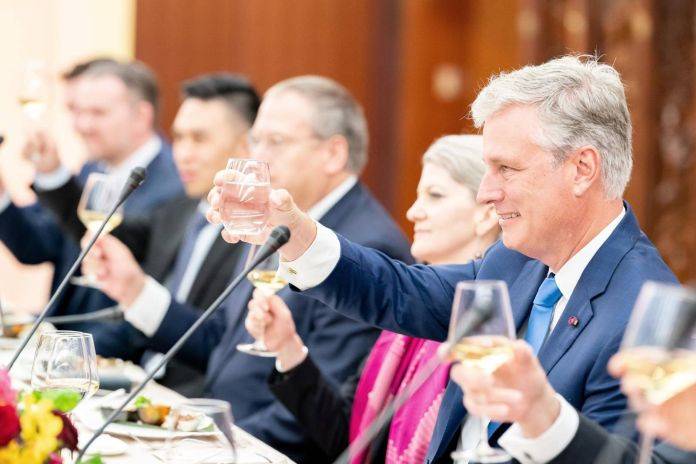 As part of the visit, Taiwan president Tsai Ing-wen awarded Ambassador O'Brien with the Order of the Brilliant Star with Special Grand Cordon in recognition of his efforts to support Taiwan and its people.
President Tsai also publicized the ceremony on Twitter, and the office of the president published a readout and livestream.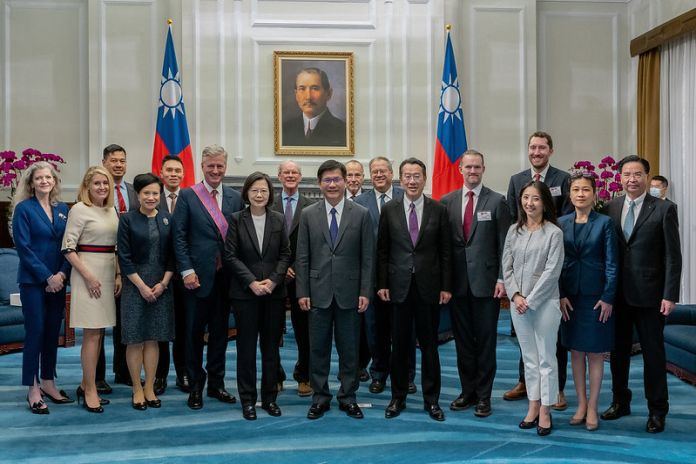 During the visit, the delegation conducted meetings with:
President Tsai Ing-wen;
Vice President William Lai;
Minister of Foreign Affairs Joseph Wu;
Secretary-General of the National Security Council Wellington Koo;
Minister of the National Development Council Kung Ming-hsin;
Minister of Economic Affairs Wang Mei-hua;
Minister of the Mainland Affairs Council Chiu Tai-san;
Minister of National Defense Chiu Kuo-cheng;
Minister of Digital Affairs Audrey Tang;
Democratic Progressive Party Co-Founder Chiou I-jen;
Kuomintang Chairman Eric Chu;
Members of the Legislative Yuan's Foreign Affairs and National Defense Committee;
American Institute in Taiwan;
Industrial Technology Research Institute;
Institute for National Defense and Security Research;
Taiwan Institute of Economic Research;
Kuma Academy.
To conclude their visit, delegates still in Taiwan conducted a press conference, on March 24, at 4:00 PM local time at the Grand Hyatt Taipei.