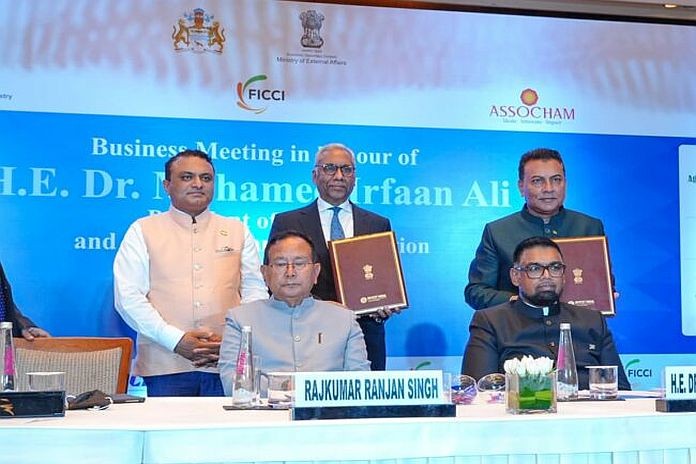 GEORGETOWN, Guyana, (DPI) –  Guyana Invest (National Promotion Agency of Republic of Guyana) and Invest India, (National Promotion Agency of India) have agreed to build cooperation by signing a memorandum of understanding (MoU).
The MoU signing took place at The Oberoi Hotel, New Delhi, India on Thursday, January 12, 2023, on the sidelines of the Guyana delegation visit led by H.E. President Dr Mohamed Irfaan Ali's visit, alongside Dr Rajkumar Ranjan Singh, minister of state, ministry of external affairs, government of India and H.E. Dr K. J Srinivasa, High Commissioner of India to Guyana.
This MoU was signed by Dr Peter Ramsaroop, chief investment officer of Guyana and agency head of Guyana Invest and Deepak Bagla, managing director and Chief Executive Officer (CEO) of Invest India. The MoU is a form of mutual commitment to strengthening bilateral investment relations, facilitating foreign direct investment, and aiming at setting a framework to promote the exchange of experience and relevant information.
"Guyana Invest is pleased to partner with Invest India, the leading investment agency in the world. Prior to this MoU we have been collaborating on areas of capacity building and technical assistance. With this agreement in place we look forward to strengthening our ties as we forge mutual Investment opportunities between our two nations", Dr Ramsaroop, stated.
Deepak Bagla, MD and CEO of Invest India, stated: "Invest India is looking forward to collaborate with Guyana Invest to promote mutual Investment and sourcing opportunities between the two nations. With this MoU, we hope to strengthen our bilateral economic relations with Guyana".
The MoU will further look at building business ties between the two nations and strengthening bilateral cooperation, the government of India and H.E. Dr. K. J Srinivasa, High Commissioner of India to Guyana.
Guyana Invest is Guyana's Investment Platform and is based on a democratic government, transparency and accountability and the belief in family, faith and freedom. The public and private sector leaders work together in an extended vision that assures measurable objectives are successful.
Invest India is the official Investment Promotion and Facilitation Agency of the government of India, mandated to facilitate investments in the country. It is the first stop for potential global investors in the country. India is one of the fastest growing economies in the world which has not only sustained global downturn of 2008-09 but is also slated to grow at consistently higher rates during the next few decades.