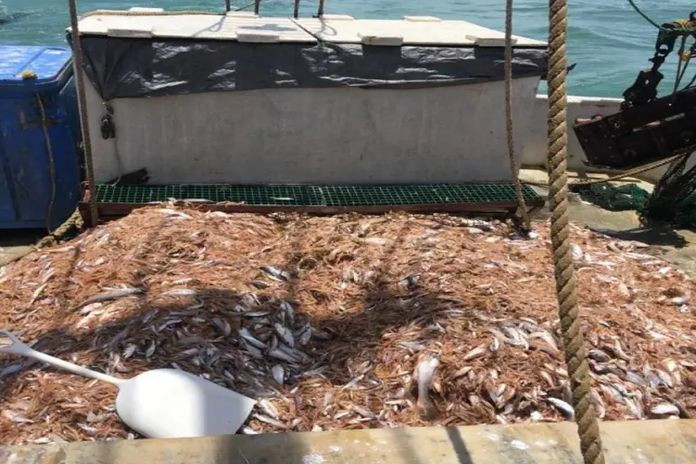 GEORGETOWN, Guyana (DPI) – Guyana is the leading exporter of seabob shrimp globally as the government seeks to increase the productivity and competitiveness of the fishery commodity.
The plan is to increase Guyana's status as a major exporter of Atlantic seabob shrimp while ensuring the long-term stability of the stock and enhancing individual wealth in the expanding tourism and oil and gas sectors. This aligns with the PPP/C government's food security agenda as it continues to take the charge in reducing the Caribbean's high food import bill by 25 percent by 2025.
Among the strengths include a well-run, regulated export industry headed by three vertically integrated businesses that have earned marine stewardship council (MSC) accreditation as a sign of their dedication to sustainable business practices, highly effective procedures (from catch to freezing in 20 minutes), a sufficient supply of both skilled and unskilled labour for future growth, and an average annual employment generation for approximately 800 persons, with nearly 40 percent of those hired being women for processing labour, salaries above the minimum wage; and low staff turnover (almost 50 percent of employees have been with the company for more than ten years).
This was highlighted in The Seabob value chain in Guyana January 2023 summary report.
One of two Caribbean nations, as well as one of the 12 ACP nations chosen for the 'FISH4ACP' programme is Guyana. The vertical integration of the three industrial companies functioning from capture to export, which enables a coordinated approach toward meeting MSC regulations, is one of the strengths of the industrial channel for seabob.
Approximately 99 percent of the average annual seabob catch (from 2015 to 2020) comes from the industrial channel, and 93 percent of that amount is exported, mostly to the United States of America market where demand is still high.
Between 2015 and 2020, three industrial seabob businesses in Guyana produced about 7, 600 tonnes of peeled seabob annually (17,000 tonnes fresh, whole weight equivalent), of which about 93 percent was exported to markets in the US and the European Union (EU), and seven percent was sold to regional supermarkets, hotels, and restaurants.
The Guyana seabob fishery received conditional MSC accreditation in 2019. The 76 licensed trawlers owned by the three largest industrial companies, along with the 11 independently-owned trawlers that they employ, are responsible for 87 percent of all fishing activity.
To maintain certification, these companies have proven their dedication to enhancing sustainable fishing methods by adhering to MSC and fisheries department (FD) requirements. This is an inshore no-trawl zone, specifications for bycatch reduction devices (BRDs) and turtle excluder devices (TEDs) for all industrial trawl nets, adoption of onboard electronic monitoring by closed circuit television, vessel monitoring systems (VMS), and adherence to harvest control rules (HCRs), which cap the permissible number of days at sea to 225 per year.
Notably, industrial participants have complied with fisheries management measures to a great degree, according to a recent review of the Seabob Fisheries Management Plan 2015-2020 (Fisheries Department, 2020).
While the artisanal channel only contributed one percent of the total seabob catch between 2015 and 2020, its advantages include the employment generated in fishing as well as downstream in the processing and retailing of seabob for the domestic market. This is in addition to the contribution made to food security by the 300-plus Chinese seine fishing vessels, both in terms of seabob landings and other saleable species.
Key opportunities include strong domestic demand for fresh, minimally processed or peeled seabob that meets food safety and quality requirements and can be sold into restaurants and supermarkets to meet projected demand by the tourism and oil and gas sectors.
These opportunities are dependent on stock issues being resolved and larger shrimp being caught.
Strong demand from the US and EU for increased volumes of higher-value seabob is another opportunity, as Guyana's top and second export markets continue to be robust. Another opportunity is the possibility of enhancing the sustainability brand.
The report emphasised that there is an extremely strong domestic demand for seabob. According to a consumer survey, three-quarters of the questioned families consume seabob, with an average family consumption of 5.4 kg/year, making Guyana one of the Caribbean Community and Common Market countries with the highest levels of domestic seafood consumption.
A general goal for the upgrading plan was created with stakeholders in the form of the following vision statement, informed by the SWOT analysis, the sustainability evaluations, the VC map, and stakeholder interests as expressed during consultations.
"In 2032, Guyana will have strengthened its position as a leading exporter of seabob shrimp globally by ensuring a sustainable and resilient value chain for seabob across the industrial and artisanal channels, that is well-regulated and supported by data, with improved infrastructure for artisanal fishers and empowerment of women across both channels."
By 2032, specific and quantifiable goals related with the vision by 2032 are economic, environmental, and social.
By guaranteeing the economic, social, and environmental sustainability of fisheries and aquaculture in Guyana, will help to advance food and nutrition security, economic success, and the creation of jobs.
Guyana harvests 20,000 tonnes of seabob annually at an estimated value of US $50 million.
The Organisation of African, Caribbean, and Pacific States (OACPS) launched the FISH4ACP programme to promote the growth of sustainable fisheries and aquaculture. The Food and Agriculture Organisation of the United Nations (FAO) is carrying out the five-year value chain (VC) development initiative (2020–2025) with funds from the EU and the German Federal ministry for economic cooperation and development.