By Kemol King
GEORGETOWN, Guyana, (DPI) – Senior minister in the office of the president with responsibility for finance, Dr Ashni Singh has been keeping busy in back-to-back meetings with prospective investors for Guyana's economic space.
"It doesn't come at all as a surprise to me that in the real estate space, that a major international brand like RE/MAX is entering the Guyanese market," said Dr Singh. "Today, more than ever before, international visitors, international investors, international companies and your more discerning domestic consumer is looking for brands that they recognise. And so, it's not an accident that we're seeing today the turning of the sod of more Marriots, more Hyatts, more Best Westerns, the entry of international food chains, the entry of international brands in literally every sector and segment of economic activity."
The finance minister said that just before arriving at the RE/MAX launch, he had met with a number of large institutional Canadian investors looking at potential major projects. He added that the day prior, he engaged a major United States-based construction company, and then a large agriculture conglomerate based in the United Arab Emirates.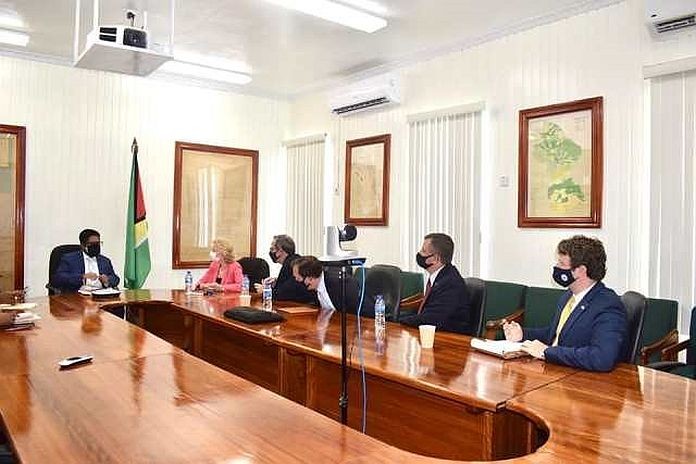 The US company is Bechtel Energy Inc., a major firm not only in construction, but engineering and project management, serving the energy, infrastructure, nuclear, security, environment, mining and metals markets worldwide.
The UAE company, Elite Agro LLC, is one of the UAE's leading agriculture companies, having largescale integrated farming operations and is currently engaged in the growing, sourcing, importing and marketing of agricultural products.
"They really are just a few examples of many that I could give to chronicle the unprecedented level of international investor interest in Guyana today, given where we are economically today… I believe the story about Guyana being poised in the current era for a historic economic takeoff is well known. I think the remarkable economic potential that we have and the fact that we are on the verge of realising that potential is also well known."
In addition to more international investors, the finance minister sees domestic consumers as now more discerning in looking for goods and services of a quality not previously found in the Guyanese marketplace.
Dr Singh said this is the age in which Guyanese will see more demand for goods and services to be delivered at or in compliance with a level of standards that before was never in demand.