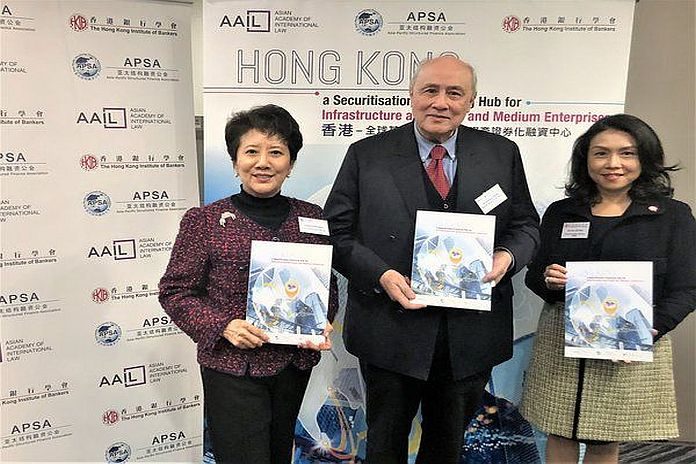 HONG KONG –  The Asia-Pacific Structured Finance Association (APSA), The Hong Kong Institute of Bankers (HKIB) and the Asian Academy of International Law (AAIL) jointly hosted a seminar yesterday to examine how Hong Kong can enhance its role as an international securitisation hub. Discussing how Hong Kong's strengths in finance and business can be leveraged to capture the opportunities in the Asian securitisation market, the seminar is part of the annual International Financial Week being held in Hong Kong between January 13 and 17.
At the seminar, the three organising parties jointly launched an industry report titled "Hong Kong — a Securitisation Financing Hub for Infrastructure and Small and Medium Enterprises", offering industry players specific recommendations on how to enhance the city's financial ecosystem to deliver institutional investment capital through securitisation to key sectors of the economy, such as infrastructure and small and medium enterprises (SMEs). The report discusses ways to capture the opportunities arising from various infrastructure projects across the region and to address the financing needs of SMEs.
The report suggests that Hong Kong needs to focus on three core areas in order to establish itself as an international securitisation hub, namely (i) making available data and information about prior successful securitisation transactions, (ii) creating a marketplace for professionals and (iii) implementing laws, regulations, tax rules and market infrastructure to support a robust securitisation market.
It also stresses that the path towards establishing Hong Kong as a securitisation financing hub requires the collaboration of multiple stakeholders including policy makers, regulators and professionals from the finance, legal, accounting, engineering, management and investment sectors.
Dr Anthony Francis NEOH, Special Advisor to this industry report and the chairman of AAIL, said, "These securitisation proposals will complete the last remaining elements which will make Hong Kong into the 'International Hub for Securitisation' of Asia, catering to international infrastructure projects and the securitisation of Small and Medium Enterprise Financing in the Greater Bay Area. That will create a revolution in at least the same scale as that of H Shares, if not more."
Speaking at the launch seminar, Susie CHEUNG, Co-Convenor of APSA, said, "It is to be hoped that the initiative could act as a rallying call to galvanise the support of all the relevant stakeholders in Hong Kong to work together with the policy makers and regulators, and drive forward the use of securitisation to deliver significant benefits to both the local and global economy which Hong Kong has the potential to do, beyond just infrastructure and SMEs. This is a great opportunity and one that we should all grasp with both hands."
Carrie LEUNG, chief executive officer of the HKIB, said, "To ensure we can deliver a securitisation framework that reaches the highest international standards, we need to strengthen our local talent pool. Securitisation encompasses more than issuance and underwriting, and one of the next steps will be to set out best practices in key areas such as credit risk management and insurance in which local banking and financial services practitioners can actively participate."
Download a full version of the report.