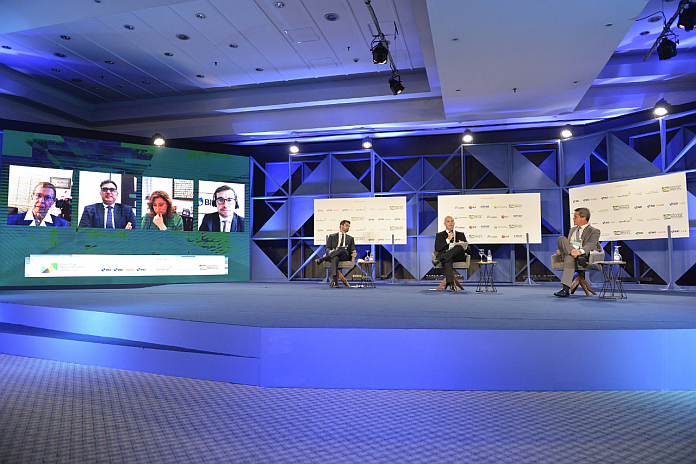 SÃO PAULO, Brazil – On the final day of the Brazil Investment Forum (BIF), Latin America's largest foreign-investment event, Inter-American Development Bank (IDB) president Mauricio Claver-Carone reinforced the institution's commitment to enabling vital foreign direct investment and public-private partnerships for the country's sustainable and inclusive development, while announcing the approval of a $150 million infrastructure loan.
Brazilian president Jair Bolsonaro, foreign minister Carlos França, economy minister Paulo Guedes, and Brazilian Trade and Investment Promotion Agency (ApexBrasil) President Augusto Pestana featured in the fifth edition of the Forum, which brought together approximately 5,000 participants and investors from 100 countries.
The projects including opportunities in infrastructure, agribusiness, renewable energy, innovation and technology have the potential to attract more than $66 billion in investments and help create 200,000 jobs in the country, according to ApexBrasil.
"This year's Forum was a resounding success, helping chart the course toward a booming recovery, the creation of new markets, and accelerated investments, led by the private sector as a catalyst of sustainable and inclusive impact. Brazil's potential is immense, and we are helping realize it together, in the service of development," said president Claver-Carone.
He noted that the IDB is actively structuring resources dedicated to supporting public-private partnerships and concessions that will generate $5.5 billion in expected capital-expenditure investments over the coming decade in Brazil.
The IDB has emphasized the role that these partnerships must play for the country, Latin America and the Caribbean, overall, to realize a once-in-a-generation opportunity for insertion into global value chains and nearshoring – which could generate a nearer-term regional boost of $78 billion in the export of goods and services per year.
The IDB's work to unlock these opportunities is part of a redoubled, whole-of-institution effort by the bank and its private-sector arm, IDB Invest, to harness the increasing interest and mobilize untapped resources from the international private sector to complement the region's public sector in spurring job creation, green growth, digitalization, greater transparency and productivity, and other development goals.
At the conclusion of the Forum, the IDB also announced the approval of a $150 million credit to improve road infrastructure and safety in the northeastern Brazilian state of Ceará.
The program plans to overhaul stretches of state highways to enhance access to logistical corridors for 25 municipalities in five productive areas. Reduced travel times and costs will help optimize the transportation of raw materials and the commercialization of products from various supply chains.
In particular, the project will directly benefit nine chains of high-value products with export potential. It will also facilitate balanced territorial development, helping reduce social inequalities by enabling additional job possibilities and improved connectivity.
Earlier in the Forum, the IDB and Brazil sealed a $1.6 million partnership for sustainable transportation, with financial contributions from the United Kingdom.
The bank also announced expanded technical support to Brazil's ministry of economy to help the country on its accession path to the Organisation for Economic Co-operation and Development (OECD).
The annual Brazil Investment Forum is organized by the IDB, ApexBrasil, and Brazil's ministry of foreign affairs and ministry of economy.
In addition to president Claver-Carone, IDB participants in this year's BIF panels included vice president for Countries Richard Martínez; IDB Lab CEO Irene Arias Hofman; chief of staff and chief strategy officer Jessica Bedoya; infrastructure and energy sector manager Ariel Yépez; institutions for development manager Susana Cordeiro Guerra; and integration and trade manager Fabrizio Opertti.
The bank's executive director for Brazil and Suriname, Martha Seillier, and its representative in Brazil, Morgan Doyle, also participated.