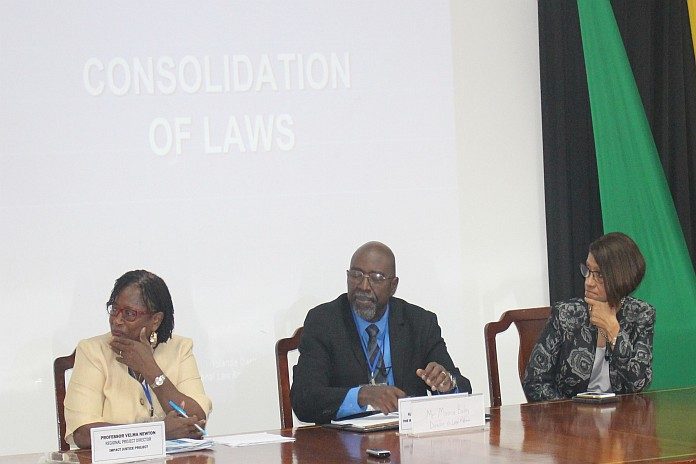 KINGSTON, Jamaica – The government of Canada funded Improved Access to Justice in the Caribbean (IMPACT Justice) project partnered with the ministry of Justice in Jamaica and the Regional Law Revision Centre Inc., based in Anguilla to deliver consolidation of laws training to persons within the legal reform unit of the ministry of justice and the parliament office.
Consolidation of laws is the process by which amendments to legislation are incorporated into the document containing the main body of the law on a particular subject. It serves to draw together different enactments, sometimes made over a number of years, into a single Act so that the law is in one place. In the Caribbean, consolidation of laws is done at irregular intervals, and this initiative aimed to enhance Jamaica's capacity so that it can be undertaken more often.
Professor Velma Newton, regional project director of the IMPACT Justice project, noted that IMPACT Justice was pleased to sponsor this initiative in Jamaica. She indicated that the Project has been active in training persons in legislative drafting at The University of the West Indies, Cave Hill and the consolidation of laws at the Regional Law Revision Centre Inc., in its 6-year history.
Maurice Bailey, director of legal reform at the ministry of justice in Jamaica, indicated that the training was important for Jamaica, particularly to ensure that Jamaicans are able to more easily access the updated legislation which governs them. Yanive Nelson indicated that the training was incredibly important as to his knowledge, there was no previous workshop on the consolidation of laws in Jamaica.
The workshop's agenda saw participants engaged on a number of topics, including the benefits of consolidation, the consolidation cycle, the collection of information, the use of a tracking sheet, electronic consolidation, the use of control sheets, cross references, and formatting of consolidated legislation. Participants also undertook practical exercises towards the end of the workshop.