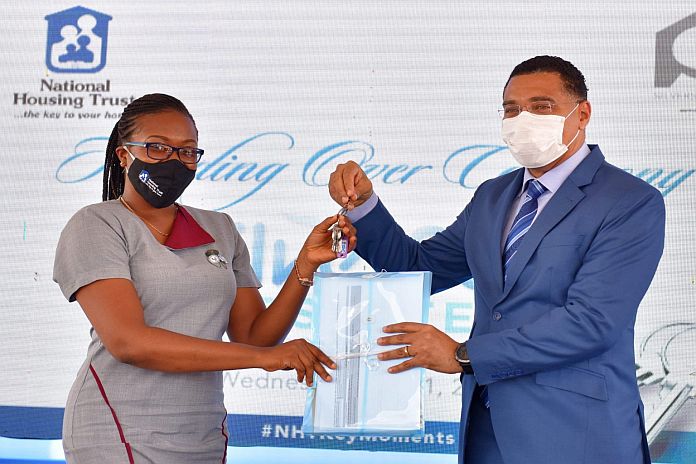 By Caribbean News Global contributor
KINGSTON, Jamaica – The National Housing Trust (NHT) plans to invest $57.7 billion for 8,513 housing solutions and the completion of 7,043 units by March 31, 2022; according to the estimates of revenue and expenditure for the year ending March 2022; meantime, minister of tourism, Edmund Bartlett, says the estimated gross earnings from the tourism industry for the fiscal year 2021/2022 are projected at US$1.87 billion, with corresponding visitor arrivals of 1.6 million.
Housing solutions
"The NHT's plans include housing in Albion, St Thomas and Point, Hanover under the Guaranteed Purchase Programme, as well as solutions at Mount Nelson, Manchester; Fontabelle, Westmoreland; and Rasta City, Kingston. Additionally, the solutions scheduled to be completed include Colbeck Castle Phase one and two, St Catherine; Friendship Phase one, St Elizabeth; and Ruthven Road Phase one, Kingston.
"The planned level of capital expenditure includes the disbursement of 12,083 mortgage loans under different programmes, including build on own land, open market, construction, joint mortgage finance and house lot loans.
"Meanwhile, the NHT will continue to provide special subsidies and grants amounting to $1.6 billion. This allocation will include provision for community renewal projects and mortgage subsidy aimed at increasing access to benefits by contributors in the lower-income bands. Also included is the refurbishing of 10 police stations at a cost of $485 million."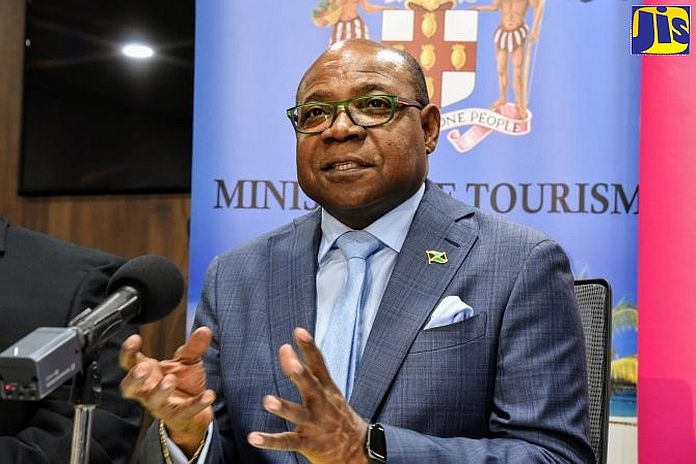 The tourism industry
Tourism minister Bartlett says visitor arrivals/stopover projects 1,043 million, representing 117 percent increase, and cruise ships at 570,000, which would be a 100 percent increase over the previous period.
"Those statistics are reflective of what the position will be. They are very flattering and we recognise that the industry literally came to a halt (due to COVID-19)," he noted. "We have been crafting the landmark Jamaica Cares Programme, which will be a huge marketing tool for us, but also an assurance that when visitors come here, they will be in a tourism bubble, which is commonly referred to as the resilient corridor."
Minister Bartlett advised that new destinations will be created:
"St Thomas is the new frontier. We have done the planning already, the design has been done and we are going to roll that out in this fiscal year. Then there is the south coast development plan, which is a programme to be implemented; we have not completed that as yet. We started with Negril and we are going to continue on the south coast," he added.
"I think that the vaccination programme globally will inform how much we accelerate our marketing efforts in these source countries, but the reports that we have so far are indicating that the US is very aggressive in its vaccination programme. We should have, based on today's report, up to 60 percent coverage of the United States market by the end of May, which is very significant for us."
The UK, Bartlett said, "has had over 50 percent already and that is good. So we think that our proximity to the US, the integrity of our promise as a destination and the knowledge of Jamaica as a really strong destination, with the quality products that we have, will put us in a good position to benefit from this development from our source markets".
Toward recovery
The article Tourism in a post-pandemic world referenced Jamaica, as follows:
"Countries have also been assisting firms to adapt their business models and retrain staff. In Jamaica, the government gave free online training certification classes to 10,000 tourism workers to help improve their skills. In Jamaica, for instance, an online platform was launched that allows buyers in the hotel industry to directly purchase goods from local farmers. Exports, including services, could also be expanded, using regional agreements to address the constraints imposed by limited economies of scale."
Moreover, "Solutions will differ from country to country, and the pace and scope of recovery will of course depend on global developments. But there is an important opportunity to be harnessed. Beyond the immediate priority of mitigating the impact of the pandemic, countries will need to create a "new normal" for the tourism industry. Diversifying, shifting to more sustainable tourism models and investing in new technologies could help to shape the recovery."
Source: JIS DAILY NEWS