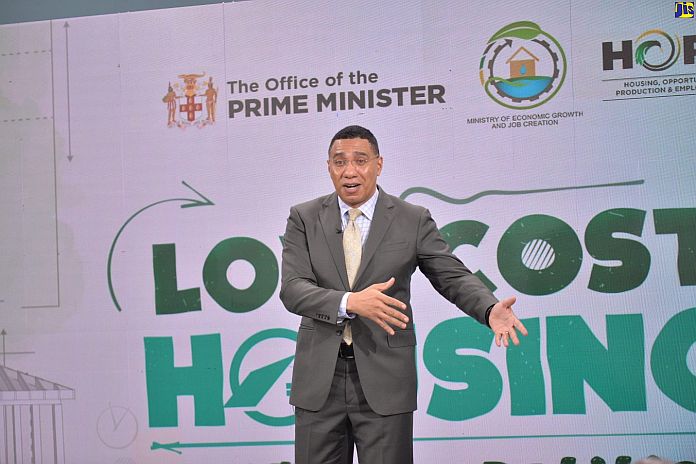 By Ainsworth Morris
KINGSTON, Jamaica (JIS) – The government is calling on Jamaican architects to submit creative, original, resilient and low-cost housing designs, through the Low-cost Housing Design Competition, which can be used as a model for the nation's social housing programme.
The competition was launched virtually on Friday, May 7, by prime minister, Andrew Holness. It forms part of the social housing aspect of the Housing, Opportunity, Production and Employment (HOPE) programme.
"The genesis of this project was indeed the success of the competition that was launched for the design of our [new] parliament [building]," the prime minister said. "What we are trying to do is to get the architectural community, the planning community, and the environmental community to take the vast knowledge that exists, both globally and of local circumstance, and infuse it into practice to solve real-world problems," he added.
The prime minister said solutions that do not win will help the government knowledge of solutions that are there from research and academia. The government will take that application and put it through our bureaucracy and then have it implemented.
Permanent secretary, ministry of economic growth and job creation, Audrey Sewell, gave an overview of the competition and its requirement, said: "Given the high demand, there is a need to optimise our limited financial resources to get the best value at the least cost. It is against this background that at the inception of the programme, the prime minister gave the directive for the Low-Cost Housing Competition to be launched."
"It is open to all Jamaicans, whether they live here or overseas. Of course, those who are residing overseas will have to prove that they are Jamaicans. We are especially targeting engineers, architects, builders and students from the built environment, but we are not limiting the competition to those categories, so once you feel that you meet the requirements, we are encouraging you to enter," she added.
Submissions may be done individually or in teams with a maximum of five persons. Competitors are encouraged to conceive new and original design concepts that are low cost and sustainable.
Designs should accommodate persons who are disabled, should demonstrate climate resilience and be adaptable to the various terrains to be found islandwide. Entries will be accepted in four categories: one, two and three-bedroom units and multi-family unit.
The government will offer a prize of $1 million for the winner, $500,000 for second place, and $250,000 for third place in each of the four categories.