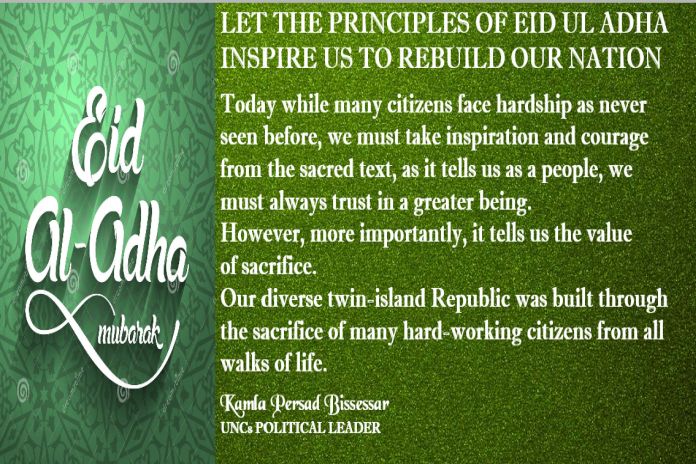 Dear All
I extend warm greetings to the Islamic community throughout Trinidad and Tobago on this holy celebration of Eid ul Adha. As our Muslim brothers and sisters observe this very auspicious day, we do so at a time when we face much uncertainty in our national affairs given the COVID-19 crisis and other socio-economic burdens facing our citizens.
It is therefore important that as a nation, regardless of our varying faiths, we all utilise the sacred message and principles of this day, to build a stronger nation. The celebration of Eid-ul-Adha, also known as the festival of sacrifice, commemorates Prophet Ibrahim's devotion to Allah and his readiness to sacrifice his son, Ismail. At the very point of sacrifice, Allah replaced Ismail with a ram, which was to be slaughtered in place of his son. This command from Allah was a test of Prophet Ibrahim's willingness and commitment to obey his Lord's command, without question.
[Today] while many citizens face hardship as never seen before, we must take inspiration and courage from this sacred text, as it tells us as a people, we must always trust in a greater being. However, more importantly, it tells us the value of sacrifice. Our diverse twin-island Republic of Trinidad and Tobago was built through the sacrifice of many hard-working citizens from all walks of life.
At present, when many of our institutions, way of life and key national framework have all been severely affected by COVID-19, as well as issues of national leadership, we as citizens must sacrifice for the greater good to ensure the welfare and sustenance of our fellowman.
The message of Eid ul Adha presents each citizen, regardless of their walk of life, with a message that the only way we can improve our national wellbeing is through individual sacrifice and dedication to the improvement of each other's lives.
On this special day, our Muslim brothers and sisters will be undertaking the act of Qurbani which consists of slaughtering an animal as a sacrifice to mark this occasion in remembrance of Prophet Ibrahim's sacrifice for Allah.
As some of the meat from this sacrifice is distributed to the vulnerable throughout our nation, this act inspires all citizens to undertake similar actions of charity or personal sacrifice regularly to ease the tremendous suffering in our various communities.
Kamla Persad-Bissessar SC