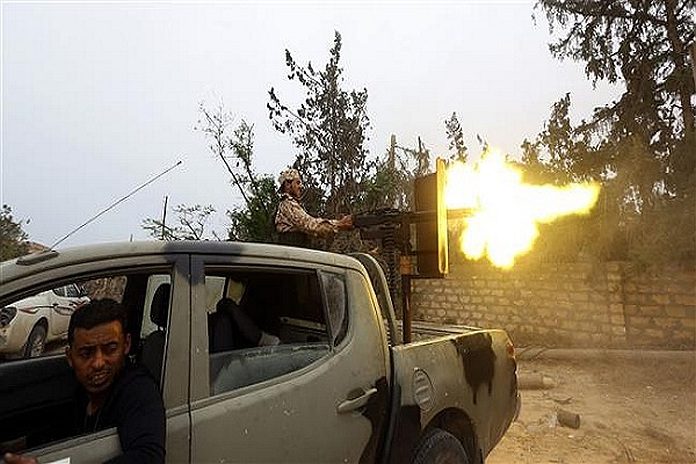 NEW YORK, USA – (teleSUR) — The arms embargo in place to curb the violent war in Libya has become a meaningless "joke," United Nations Deputy Special Representative to Libya Stephanie Williams said Sunday.
"The arms embargo has become a joke, we all really need to step up here," Williams mentioned at a news conference after meeting with foreign ministers about a follow up on a Berlin summit last month that agreed to uphold the embargo.
As fighting continues despite a fragile truce, the UN envoy said that the situation is "complicated because there are violations by land, sea, and air, but it needs to be monitored and there needs to be accountability," warning that Libya was now awash with advanced weapons.
On January 19, in a Germany-led peace summit all countries with interests in the conflict – as well as the two warring sides – agreed to respect the disregarded international arms embargo on Libya. However, since the meeting, the truce has been ignored many times, as the Libyan National Army (LNA) continues its final push to take Tripoli.
"It has been obvious in the last weeks there have been many not insignificant breaches of the weapons embargo," German Foreign minister Heiko Maas said at the press conference after the meeting.
As part of the agreements made in Berlin, Libya's warring sides met on February 3 to continue to look for a permanent ceasefire during the 5+5 Libyan Joint Military Commission organized by the UN.
The first round of talks faltered when officials concluded negotiations without signing an agreement, though another round of talks is expected next week.
Meanwhile, on Wednesday, the UN Security Council endorsed a 55-point road map for ending the war in Libya and condemned the recent increase in violence.
The European Union, whose foreign ministers are set to discuss Libya on Monday, is considering whether and how to have naval ships enforce the UN arms embargo against Libya.
"Everyone needs to know that – if they violate the embargo in future – then they violate a UN resolution and that this can't remain without consequences," Maas said, without elaborating.
The LNA, which is backed by Egypt, the United Arab Emirates (UAE), France and Russia, has been fighting off a ten-month-long offensive over Tripoli which is the last stronghold of the UN-recognised government of National Accord (GNA) of premier Fayez al Sarraj's, who is backed by Turkey, Qatar, and Italy.