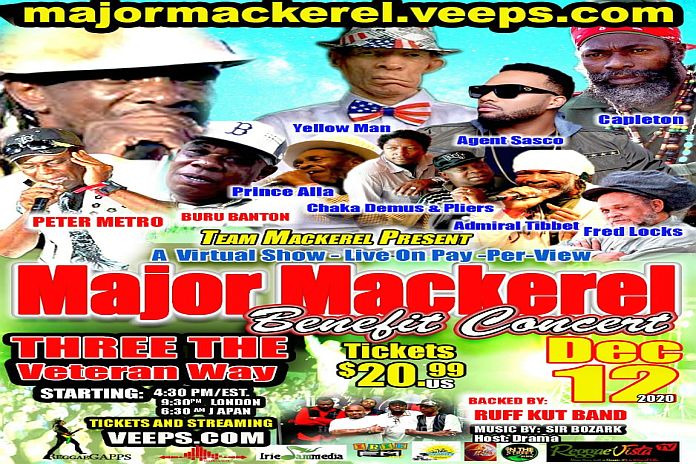 By Caribbean News Global contributor
JAMAICA/ENGLAND – Major Mackerel has announced a virtual benefit concert scheduled for December 12, 2020.
The event will feature performances by Capleton, Agent Sasco, Yellow Man, Fred Locks, Admiral Tibbet, Buru Banton, Prince Alla, Peter Metro, Chaka Demus & Pliers and of course Major Mackerel. All artists will be supported by the Ruff Cut Band.
While Major Mackerel is recovering from leg amputation he remains active in music and life. He was recently interviewed by DT LT –  'The Lucian Touch' on RFI Radio 102.1FM, promoting the pay-per-view concert, which will be streamed live on https://majormackerel.veeps.com/
"The doctors say that feeling is normal, so I just have to move on and continue with my life. Right now, I am facing a lot of expenses because of this amputation, but my bredren who have been helping me out are again showing their love, and I am grateful," Major Mackerel said.
"Remember seh a me seh 'pretty looks dun and me nuh get none', and in '87, '88 and '89 top 10 deejays," this time it's a virtual showcase titled Major Mackerel Benefit Concert, December 12, 2020, login: https://majormackerel.veeps.com/