Acquisition Extends Miner's Nationwide Service Network with Established Business Leader in the New York – New Jersey Industrial Market
PERRYSBURG, Ohio–(BUSINESS WIRE)–#acquisition—Miner, the dock and door division of OnPoint Group, has acquired New Jersey Door Works (NJDW), the leading commercial dock and door company in the New York – New Jersey industrial property market. For more than 30 years, NJDW has been providing exceptional design, service and installation for customers across Northern and Central New Jersey as well as New York City's outer boroughs. This acquisition supports the continued expansion of Miner's footprint, now serving most major markets nationwide.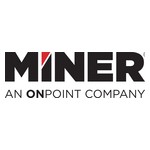 "Supply chain and facility operations are more complex than ever. OnPoint's vision is to simplify material handling and facility equipment management for regional and national customers so they can focus on their core business. Adding NJDW to Miner expands our reach in a critical market, strengthening our presence and partnership for customers requiring national dock and door solutions. Mike and his leadership team have built an incredible organization. We want to maintain this experienced team and continue to invest in this group to help them grow," said Tom Cox, CEO of OnPoint Group.
NJDW serves a broad range of distributors and property owners, serving over 2,000 customers in the last twelve months alone. Since 1988 they have been a trusted partner for commercial docks and doors, while also providing general contractor services including masonry, electrical, high security fencing and access systems.
"The team at Miner shares our vision of delivering smarter and safer dock and door solutions amidst an ever-more complex supply chain. We will continue to offer unparalleled equipment design, installation and maintenance services to our clients, now with an expanded array of solutions and capabilities," said Mike Serillo, President of NJDW.
For additional information about Miner and NJDW visit www.minercorp.com or www.onpointgroup.com/mergers-acquisitions.
About Miner
Miner, an OnPoint Group company, is the facility expert for docks and doors, improving safety and uptime while lowering costs for some of the largest industrial facilities and Fortune 500-class companies in North America. Our suite of proactive MinerCare services makes for smarter, safer loading docks with data-driven solutions. From real-time electronic evidence to equipment monitoring to asset management and expert installations, our mission is to mitigate risk and improve efficiency at the loading dock. Our service footprint includes the largest network of best in class service professionals nationwide delivering superior speed, consistency and results 24/7/365. Learn more at https://www.minercorp.com.
About OnPoint Group
OnPoint Group is the first national, brand independent service and equipment provider supporting manufacturers, retailers and distributors for all of their material handling and facility maintenance needs to achieve better productivity, safety and cost-control. Divisions include Miner, TrueSource, Concentric and TFS, specializing in everything from forklift fleet management to forklift power, critical backup power, docks, doors, and other critical facility maintenance needs. Headquartered in Perrysburg, OH, OnPoint Group's more than 1,700 industry professionals and 40,000 service affiliates support system-wide improvements, total cost control and risk mitigation through custom engineered solutions and data-driven decisions. For more information, visit www.onpointgroup.com.
Contacts
Lexington Public Relations,

Suki Mulberg Altamirano

+1 646 265 0675

suki@lexingtonpr.com