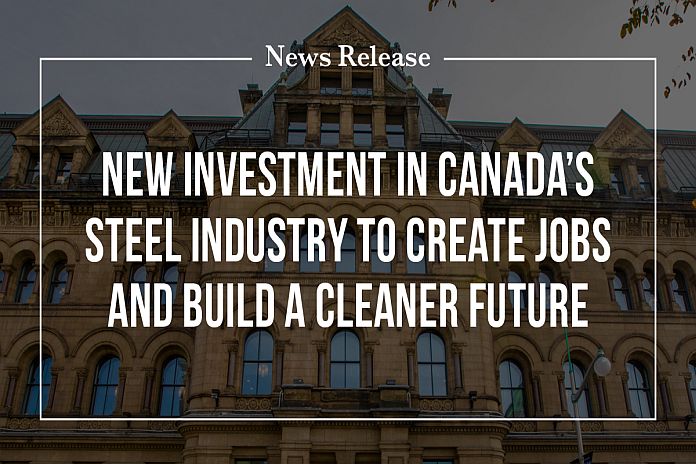 OTTAWA, Canada – Prime minister, Justin Trudeau, today announced that Algoma Steel Inc., will receive up to $420 million to retrofit their operations and phase out coal-fired steelmaking processes at their facility in Sault Ste. Marie, Ontario.
This funding will enable the company to purchase state-of-the-art equipment to support its transition to Electric-Arc Furnace production. This electricity-based process is expected to cut greenhouse gas (GHG) emissions by more than 3 million metric tonnes per year by 2030, making a meaningful contribution to achieving Canada's climate goals. This is equivalent to taking more than 900,000 passenger vehicles off the road – almost the number of passenger vehicles in Toronto.
The investment will create 500 well-paying jobs, through the project's construction phase and subcontracting, and will create over 600 new co-op placements for students. Additionally, 75 employees at Algoma will be trained for high-skilled jobs in the science, technology, engineering, and mathematics (STEM) fields.
Our country's steel producers provide thousands of good middle class jobs to Canadians, and we need to ensure they remain a vital part of our economy as we transition to a cleaner future. Like Canadians across the country, the people of Sault Ste. Marie have shown incredible strength and resilience since the beginning of the pandemic, and today's announcement will help support a strong economic recovery for their community. The government will continue to support innovative projects that help us tackle climate change, achieve our environmental goals, and create new opportunities for workers and businesses alike.