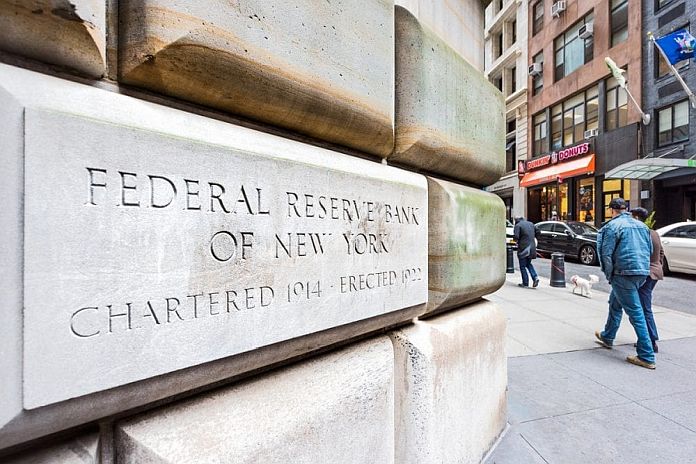 By PYMNTS
No two recessions are exactly alike. But this time around, with the light at the end of the pandemic tunnel as vaccines are rolling out, we're seeing a healthier consumer powering through a series of economic headwinds — even while debt levels increased.
To that end, the Federal Reserve Bank of New York said earlier in the month that total consumer debt at the end of last year stood at $14.6 trillion, fueled by gains in mortgages as housing demand soared. Mortgage debt passed $10 trillion for the first time.
That final reading in the quarterly report on household debt and credit of $14.6 trillion meant that total household debt increased 1.4 percent over the third quarter.
And in an interview with PYMNTS' Karen Webster, Andrew F. Haughwout, senior vice president in the Federal Reserve Bank of New York's Research and Statistics Group, and Donghoon Lee, a research officer in the bank's Research and Statistics Group, said that the data this time around yielded some surprises.
As Haughwout noted, looking back over 2020, as a whole, "in spite of the fact that the economy is in a deep recession, we don't see the things that we'd normally see in a recession occurring in the data."
Chief among those surprises, according to Haughwout and Lee: Delinquencies went down, not up, as conventional wisdom might hold during times of economic stress.
As a headline number, the rate of "serious delinquency," or 90 days or more past due, for all debt fell to 1.3 percent in the most recent period, down from 2.4 percent from a year ago.
Mortgage debt considered in serious delinquency was at 0.6 percent in the fourth quarter of 2020, compared to 1.1 last year. Student loan debt showed a serious delinquency rate of 2.8 percent in the most recent stats, compared to 9.2 percent in the year-ago period.
As for another surprise: Haughwout said observers would expect to see households move through a deleveraging stage as they moved through the recession.
Clearing debt off the balance sheet
"They'd want to clear debt off their balance sheets so they can be in a better position to manage their cash flow in a tighter economy. We don't see that, either," he said.
Debt balances, as noted above, increased through the course of the year — except credit card debt, which slid by about $108 billion in the fourth quarter, year over year. That decrease, said Haughwout, reflects an overall downtrend of using debt to finance everyday consumer spending. In fact, other New York Fed surveys have shown that consumers have used stimulus checks to pay down credit card debt outstanding.
"At the same time, personal income actually has been reasonably strong given all the transfer programs," he noted.
In the areas where consumers have, in fact, taken on debt in recent periods, said Haughwout, the focus has been on buying houses, as the pandemic has forced us to rethink our respective living spaces while working from home. It might have seemed like the timing was right to buy, given the environment of continued low-interest rates. In the quarter, there was $1.2 trillion of newly originated mortgage debt, the New York Fed data shows.
The downtrend in delinquency rates across all borrowings  particularly mortgages also speaks to consumers continuing to take advantage of forbearance programs offered through the CARES Act or voluntarily offered by lenders.
Webster noted that typically, these programs had been used by borrowers with relatively lower credit scores. But Lee and Haughwout also noted that applications for new credit had been relatively modest in the fourth quarter, indicating that consumers are focused on spending and managing the financial conduits that they have on hand not what they could spend simply because it is available to them.
Incidentally, buy now, pay later options, they said, maybe captured in "other debt," which rose $2 billion quarter over quarter.
Lee noted that people have not been tapping into home equity as much as might have been expected. He explained that there had initially been concerns that we might see a repeat of the Great Recession when the mortgage delinquency rate shot up to 10 percent (especially since the unemployment rate skyrocketed into the double-digit percentages in 2020 amid the pandemic) went unrealized.
The mortgage forbearance rate right now, said Lee, is around 4 percent but within that subset, 40 percent are continuing to make payments. Of those borrowers, said Lee, "they took the forbearance not to skip payments, but as an insurance measure. So, if something bad happens, they will take forbearance."
Echoed Haughwout: The forbearance-as-insurance strategy implies that "the consumer is healthier than some of the cruder aggregate statistics might suggest."
Even if the 2 percent of borrowers (measured as a percentage of the overall mortgage market) miss payments and are delinquent after forbearance ends, we'll be nowhere near the mortgage market pressures seen in the Great Recession in fact, we'll only be at pre-COVID levels, said Lee.
The big question remains, of course: What happens after the forbearance? Trends across mortgages, auto loans and, of course, credit card debt bear watching, they said.
As Haughwout told Webster, "this has been a recession like no other … if you look at the data we collect and showed the data to somebody from Mars, and asked 'when were the recessions?' they could easily pick out some past recessions and the 07-09 recession. But they would not recognize the most recent year as a recession."