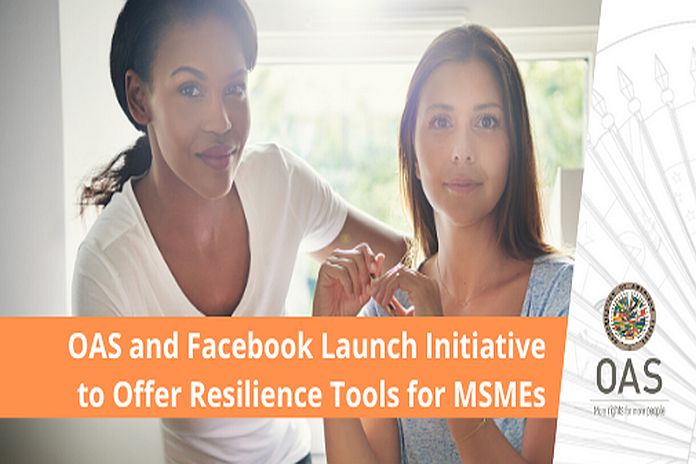 WASHINGTON, USA – The Organization of American States (OAS) and Facebook launched a partnership to support the Micro Small and Medium-Sized Enterprises (MSMEs) of the region through online training sessions and policy roundtables.
The program will help MSMEs face the challenges they are facing as a result of the COVID-19 pandemic as many of them have been forced to close temporarily due to weak consumer demand, and plummeting foot traffic and social interaction.
This new partnership will provide a series of online roundtables, which offer resilience tools for MSMEs. Sessions will feature the participation of MSME ministers from OAS member states who will share the policies and programs their countries are implementing to offer solutions to small businesses to continue operating and recovering from the economic crisis in the context of the pandemic.
The second component is online training which focuses on helping MSMEs remain connected with their customers. The program will also use Boost With Facebook online training and resilience toolkits through the Facebook for Business Page.
Boost with Facebook is the global program that brings together the MSME community to offer networking opportunities and a variety of courses to help MSMEs get the most out of Facebook's apps, tools, and services in order to help them reach the desired growth for their businesses.
"Small businesses across the Hemisphere serve as the lifeblood of our communities. Supporting them is not only about supporting the economy — it's also about supporting lives. We must help them weather the pandemic and adapt to the new post-pandemic reality. Their success will be our success," said the secretary-general of the OAS, Luis Almagro.
The series of webinars will cover a variety of topics including national actions to support small enterprises and the importance of becoming digital now. Future events will be announced through Facebook for Business and OAS channels. Both, the roundtables and training will be available on the OAS Development Facebook Page.