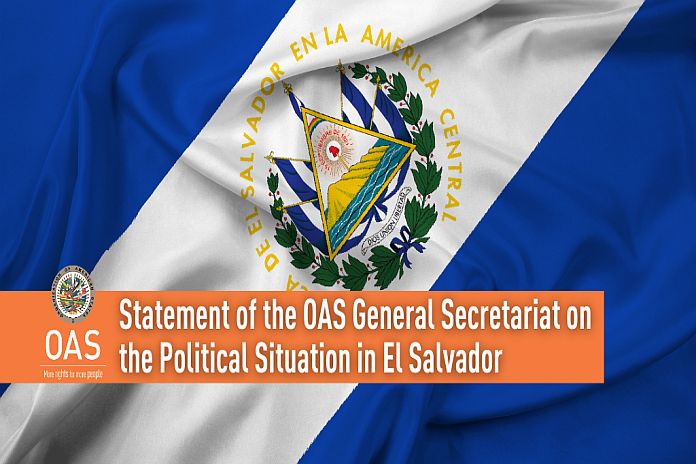 USA / El Salvador – The General Secretariat of the Organization of American States (OAS) expresses that, given the decisions adopted yesterday by the Legislative Assembly of El Salvador, it rejects the dismissal of the magistrates of the Constitutional Chamber of the Supreme Court of Justice and of the attorney general, Raúl Melara, as well as the actions of the Executive Branch that guided these decisions.
The General Secretariat understands that it is essential at this juncture to give continuity to the work begun by the special mission chaired by Santiago Cantón in the application of the Inter-American Democratic Charter – invoking Article 17 of the same -, as requested by the executive power and the previous Salvadoran legislature. The conclusions and recommendations of the report of the mission are extremely valid and constitute necessary guidelines in the current context of crisis.
Moreover, the work of the International Commission against Impunity in El Salvador (CICIES), especially the ongoing investigations that it carries out in the framework of the fight against corruption, must continue and be deepened.
In a democracy, majorities have the responsibility of being fundamental guarantors to ensure respect for human rights and fundamental freedoms; access to power and its exercise subject to the rule of law; the plural regime of political parties and organizations; and the separation and independence of public powers. When majorities impose a single, uniform vision for the rest of the political system, they are undermining these principles. When the majorities eliminate the systems of checks and balances in the institutional framework, they are altering the essence of its functioning.
The fullest respect for the democratic rule of law is essential. The parliamentary majorities and government action must permanently strengthen it with political dialogue for the better functioning of democracy. Actions that lead to its erosion and the cooptation of the judiciary only lead to an unjust society, based on impunity and political persecution.