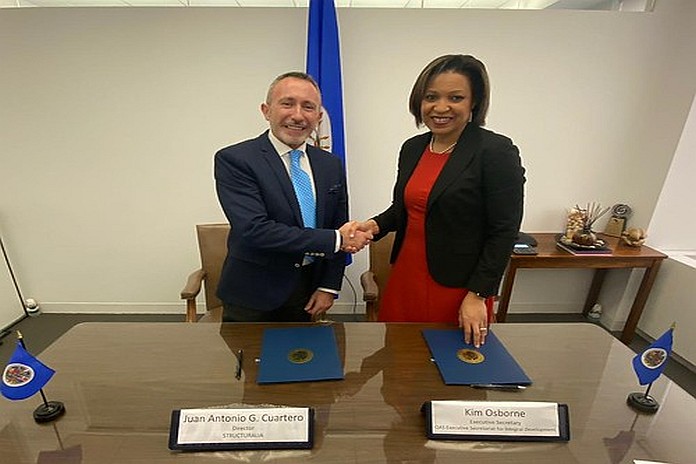 WASHINGTON, USA – The Organization of American States (OAS) and the online training school Structuralia signed an agreement to co-sponsor up to 2,240 scholarships for Master's degrees and specializations in energy, construction, and infrastructure.
The scholarships will cover up to 80 percent of tuition costs and will be granted to citizens or residents of OAS member states. Programs will be offered in Spanish, and for the first time, there will be four programs offered in English. The two institutions also agreed to co-sponsor up to 480 Master´s degree scholarships with an 80 percent discount exclusively for citizens and residents of Central America.
The OAS executive secretary for integral development, Kim Osborne, explained the longstanding collaboration between the two organizations and its impact on the region. "We look forward to continue working with Structuralia through this partnership that has benefited more than 2,000 students in 24 OAS member states since 2010. We will link this initiative to other programs we are currently working on in the areas of competitiveness, science and technology, entrepreneurship and research."
The director of Structuralia, Juan Antonio Garcia Cuartero, said "this year we celebrate the tenth anniversary of the alliance, which materializes with the signing of this agreement, between the Organization of American States and Structuralia. An alliance that fills both of us with pride and satisfaction, because it allows us to facilitate access to STEM professionals from the OAS member states through a program that will grant 2,700 scholarships for highly specialized master's degrees that will contribute to boost their employability and professional careers."
Founded in 2001, Structuralia is a postgraduate training school that trains thousands of professionals every year in 50 countries and is a specialized training provider for major engineering companies and the most important construction companies worldwide.