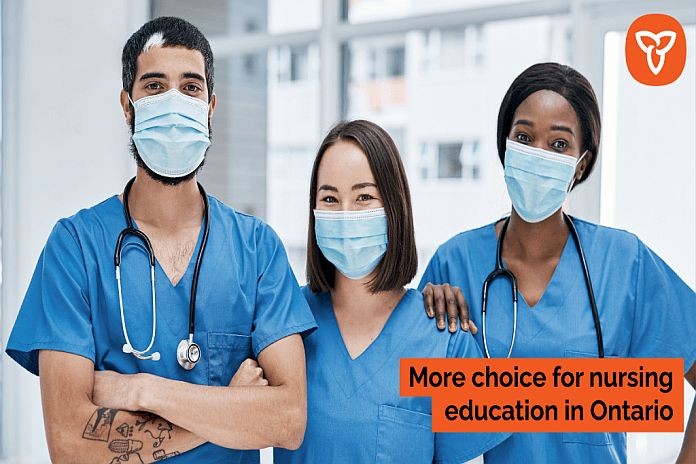 NORTH BAY, Ontario — The Ontario government is providing a new pathway for nursing education in North Bay with the launch of Canadore College's new stand-alone four-year Bachelor of Science in Nursing degree.
Details were shared today by Jill Dunlop, minister of colleges and universities and Vic Fedeli, MPP for Nipissing.
"This is an important milestone for postsecondary education in Ontario. Canadore College will offer a stand-alone nursing degree independent of a partner institution right here in North Bay," said minister Dunlop. "Given Canadore's northern location, the college is in a unique position to address an acute regional need for nurses and our government is increasing choices and reducing barriers to high-quality, local education for students."
The new program builds on Ontario's recent changes allowing both publicly-assisted colleges and universities to offer a baccalaureate degree in nursing to increase opportunities for students to access a high-quality education.
"Having a local, stand-alone nursing degree program at Canadore College here in North Bay will give local students a chance to study for this rewarding career closer to home," said MPP Fedeli. "The pandemic has accelerated the need for more qualified health care professionals, and this new program at Canadore will result in nurses training, working and living in the North."
"Ontario's nurses have gone above and beyond to provide exceptional care throughout the COVID-19 pandemic, and we are truly grateful for their dedication," said Christine Elliott, Deputy premier and minister of health. "I am pleased that Canadore College's Bachelor of Science in Nursing degree program will offer students additional options as they pursue their nursing education, hopefully encouraging even more Ontarians to explore this important career."
The first cohort of nursing students in Canadore College's new Bachelor of Science in Nursing program will start in September 2022. Canadore College is also launching a new Registered Practical Nurse to BScN bridging program, which will start in September 2023.
"We are excited to begin providing greater access to people who want to pursue a nursing career and help meet the growing need for nurses in Ontario's healthcare system," said George Burton, president and chief executive officer, Canadore College. "Canadore has been delivering nursing programs in several different formats for more than three decades, including the Collaborative BScN program with Nipissing University. Our tradition of excellence will continue with the launch of our stand-alone Bachelor of Science in Nursing program in the fall 2022."
"This new stand-alone nursing degree will provide prospective nursing students with additional options for training," said the Honourable Al McDonald, Mayor of North Bay. "It will also help to equip more people with the professional expertise that's needed to strengthen our health care system here in North Bay and across the province."
"Staffing our health care system has been identified as an urgent and pressing issue, as the COVID-19 pandemic has put a strain on our province's health human resources," said Paul Heinrich, president and chief executive, North Bay Regional Health Centre. "This announcement will help recruit future health care workers in the short term, and help alleviate staffing shortages from retirements and burnout over the long term."
As part of the government's recently announced $35 million investment to increase enrolment in nursing education programs in publicly-assisted colleges and universities across the province, the province is also providing up to $136,526 to help increase enrolment in nursing education programs at Canadore College, supporting the education of additional practical nursing students.
Quick facts
To become a registered nurse in Ontario (and be registered with the College of Nurses of Ontario), individuals must obtain a Bachelor of Science in Nursing degree.
Investing in nursing education supports the government's Long-Term Care Staffing Plan that was launched last year. At the centre of this plan, the hours of direct care for residents in long-term care will be increasing to an average of four hours per day over four years. To implement this initiative, the government will be making overall investments of $1.9 billion annually by 2024-2025.
To strengthen the health and long-term care workforce, Ontario is investing $342 million, beginning in 2021–22, to add over 5,000 new and upskilled registered nurses and registered practical nurses as well as 8,000 personal support workers. In addition, Ontario is investing $57.6 million, beginning in 2022–23, to hire 225 nurse practitioners in the long-term care sector.