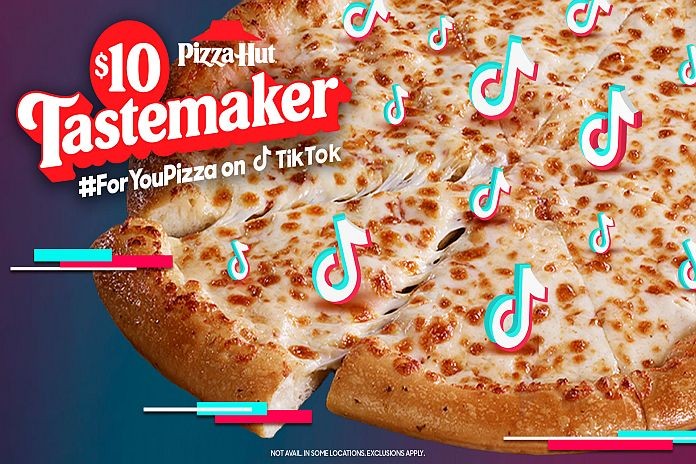 PLANO, Texas – Pizza Hut today announced the first-ever #ForYouPizza Challenge, a TikTok challenge encouraging pizza lovers to share their personalized $10 Tastemaker pizza recipe and giving one lucky fan the opportunity to have their recipe available on PizzaHut.com for a limited time nationwide.
Additionally, 20 other participants will have the chance to win from a batch of $10,400 worth of free pizza prizes.
Pizza Hut is partnering with TikTok sensation Oneya D'Amelio, known for his @angryreactions account that has amassed over 23.5M+ fans. Oneya's personalized @AngryReactions $10 Tastemaker — a large, hand-tossed, marinara pizza, loaded with ham, Italian sausage and banana peppers, complete with a side of medium Buffalo sauce to drizzle on top — is now available to order online at participating Pizza Hut restaurants nationwide, for a limited time.
"I've been a huge fan of Pizza Hut since I was a kid, and my favorite pizza combination hasn't changed since then," said Oneya. "My $10 Tastemaker is the perfect mix of savory and bold and the Buffalo sauce packs a little extra heat!"
Just like your personalized 'For You' page, the $10 Tastemaker – personalized with up to three favorite toppings – is the ultimate form of pizza self-expression.
How to enter the #ForYouPizza challenge
Beginning October 12 and going through October 14, pizza lovers can share their personalized $10 Tastemaker recipes, from crust (hand-tossed/thin) to sauce and choice of three toppings, on TikTok using #ForYouPizza and #Contest for a chance to win. On October 15, one winner's personalized $10 Tastemaker recipe will be selected to be featured on Pizza Hut menus nationwide for a limited time and the winner will also be awarded a $2,500 Pizza Hut gift card. Pizza Hut will also be awarding one year's worth of pizza gift cards – $520 each and $10,400 in total in pizza gift cards – to 20 other participants.
"We are always looking for new, innovative ways to interact with pizza lovers," said Lindsay Morgan, chief marketing officer, Pizza Hut. "We are excited to partner with TikTok star, Oneya @angryreactions for our largest activation on the platform yet and usher in a new generation of Pizza Hut fans."
The $10 Tastemaker is available for a limited time at participating Pizza Hut locations nationwide for contactless delivery, carryout and curbside pickup with availability to order directly from the #ForYouChallenge page on TikTok. To find your nearest Pizza Hut offering the $10 Tastemaker deal click here.