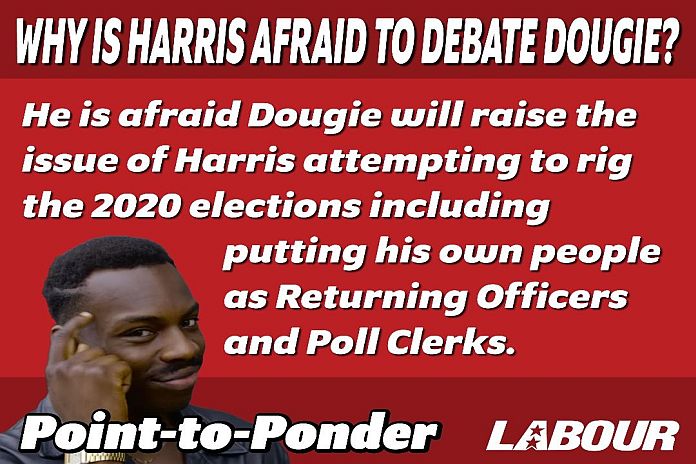 Dear Sir
WinnFM reported Saturday that its invitation to the leaders of the major political teams in the Federation has yielded only one response – the leader of the NextGen SKN – St Kitts and Nevis Labour Party (SKNLP) Dr Denzil Douglas to the debate; meanwhile, there is silence from the office of the prime minister.
WinnFM said letters were dispatched to both the office of the prime minister and NextGen SKN – SKNLP on Monday, May 25.
"The OPM (office of the prime minister) acknowledged receipt of the invitation but at news time Saturday, May 30, there is no official response to the challenge. On the other hand, the SKNLP wrote to WINN agreeing to the debate," said WinnFM. "As it stands now … it is anticipated that either Dr Harris or Dr Douglas will be the next prime minister," the station said on its website Saturday.
WINN disclosed that its letter offered to arrange a debate on or before June 2 with the highest level of diplomacy and respect without vitriolic statements or allegations of misconduct.
The unusual silence from the OPM has me thinking: Is it that difficult for Dr Timothy Harris to answer the proposed questions?
What are the three most important lessons you have learned as prime minister of St Kitts and Nevis? [5 minutes]
How did you help to shape the socio-economic structure of St Kitts and Nevis Post-1995 / pre-pandemic in your respective roles in government and what are your proposals to address the post-pandemic socio-economic realities? [12 minutes]
Why are you the better leader to take St Kitts and Nevis forward at this moment in its national development, 37 years after Independence? [8 minutes]
Why is your team of candidates more suited to lead St Kitts and Nevis for the next five years? [8 minutes]
A question voted on by the general public which will be provided to each participant at least two days before the debate. [5 minutes].
Are these too difficult for Dr Harris to ponder that "the earlier we regain power, the better it will be for the suffering people of St Kitts and Nevis."
Bob T Ailey