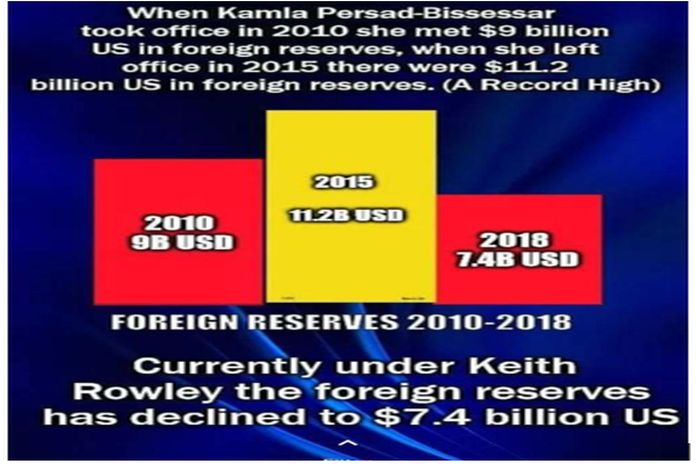 Dear Sir
Prime minister Dr Keith Rowley is a shameless man who has disgraced the office he holds with 'lies and fabricated stories'. This is the man who seemingly created fake emails to try to bring down a democratically elected government; the man whose attorney general threw out corruption cases against the Peoples National Movement (PNM) operatives who put the country in serious economic problems; the man who 'lied' about Fuelgate and refused to tell the truth about the Venezuelan connection and his courtship of international pariah and indicted narco-terrorist, Nicholas Maduro.
Dr Rowley leads a government that has abandoned transparency by refusing to proclaim procurement legislation and allowed his ministers to bypass all rules and seemingly goes shopping for billion-dollar boats, among other things, while sabotaging the sea and air links to Tobago and severely damaging the island's economy. He is the man who let one minister run up a $50,000 phone bill and another minister blew $92,000 for a rump in Tobago. And in his nearly five years in office, he has done nothing more than blame former prime minister Kamla Persad-Bissessar for everything.
Now, as he begins his campaign for re-election he continues with his lies and blame game.
Speaking during a virtual political meeting last week, prime minister Dr Rowley accused the opposition of "buying votes" for $300 and boasting that his government is one of integrity. He also declared that the opposition is using 'stolen state money' to finance their election campaign. "Where the money coming from," he asked. "That is the money they "teeth" now coming out," he added.
If I were a member of the former government, I would sue Dr Rowley for slander. Without a shred of evidence to back up his charge that the former government "teeth" from the treasury, he has seemingly slandered not one but all members of the former administration.
For the records, there is no evidence that the former administration stole anything. It was always gossip by an irresponsible PNM clan that up to today cannot produce any evidence to verify its slanderous statement.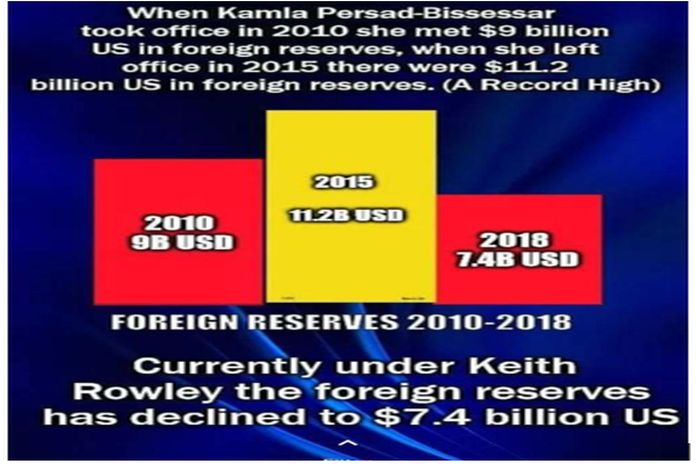 The chart tells the true financial story.
Instead of his lies, Dr Rowley should be telling the citizens of Trinidad and Tobago where the money has gone. In the years he has been in office he has spent more than Bissessar did in her five-year term and still; Dr Rowley has the audacity to talk about corruption.
Former prime minister Bissessar's government-built police stations and provided police with necessary resources; built schools and gave thousands of computers to children. She created jobs, invested in social programs to help the poor and underprivileged, including the UN recognised Children's Life Fund, to which she contributed ten percent of her salary for the five years she was in office. Dr Rowley killed that program along with the social services, the laptop program and refused to complete schools out of sheer political spite.
Perhaps his gravest sin against the people was his refusal to open the state-of-the-art hospital that was ready and fully equipped before the United National Congress (UNC) left office. It took a COVID-19 emergency for the PNM to open that hospital.
That is just a glimpse of what the UNC did.
So, can Dr Rowley show you what he has done? NO. He cannot – and that is why instead of providing citizens with a reason – just one – to re-elect him he indulges in scandalous accusations and lies.
This is a man who led an administration that had five years to grow the economy and create opportunities for all. Instead, his policies crashed the economy long before COVID-19.
He shut down a refinery that was an integral part of the lifeblood of the economy. He has the gall to blame Bissessar for that, dishonestly claiming that he had to do it to prevent the billion-dollar losses accrued by the former government. These are lies.
In five years, Dr Rowley presided over the loss of tens of thousands of jobs and chased away flourishing industries, reducing the Point Lisa's Industrial Estate to a shadow of its former self. That is why Dr Rowley and his PNM cannot tell people why they should vote for them. It is not possible because they did nothing but burned billions of dollars.
While Dr Rowley is fabricating lies to try to hoodwink the population, his minister of national security is cherry-picking who can return home. It is okay for 250 strangers from all over the world to get into Trinidad and Tobago for 2020 CPL T20 Tournament from August 18 – September 12, 2020, but not for our citizens who are marooned in foreign lands to come home.
This election is not about scandalising people and opponents. This election is about the future of Trinidad and Tobago, which is on the brink of total collapse under Dr Rowley and his PNM.
Former prime minister Bissessar and the UNC has provided progressive plans and can speak about policies to return Trinidad and Tobago to the prosperity it enjoyed under her stewardship. The people deserve a real government, not a bunch of whiners. If you want to talk Dr Rowley, talk about policies and performance, or just shut up.
Capil Bissoon