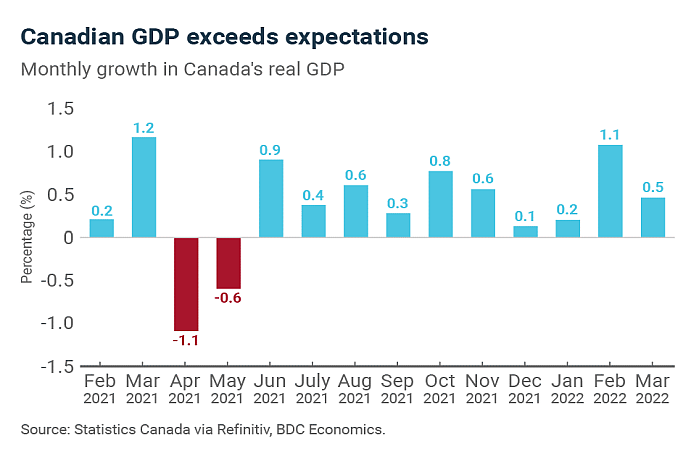 By BDC
MONTREAL, Canada – The pandemic is not over, but the momentum that the Canadian economy has enjoyed in recent months is undeniable.
While the US was facing a decline in GDP in the first quarter, the Canadian economy was booming. At least, that's what Statistics Canada's first estimates suggest. The strong results have probably reinforced the Bank of Canada's belief it must continue to increase interest rates.
Towards a stronger than expected first quarter
Monthly GDP growth continued in February with a gain above expectations (+1.1% from January). This is the ninth consecutive month of growth in the country.
Preliminary estimates from Statistics Canada suggest a 0.5 percent increase in March, indicating strong growth for the first quarter. Monthly growth of this magnitude would mean annualized growth of 5.6 percent, well above the Bank of Canada's forecast of 3.0 percent.
This would make Canada one of the few countries that has not experienced a downward revision in economic growth since the Russian invasion of Ukraine. Among other things, the country is benefitting from the soaring prices for resources and agricultural products, reflecting the imposition of sanctions on Russia and disrupted supply from Ukraine.
Not every sector has fully recovered
Notwithstanding the strong performance in the first quarter, we are still far from a generalized economic recovery.
Sectors that involve closer contact with consumers rebounded strongly in February as the Omicron-related health restrictions eased. However, accommodation and food services still have a long way to go to recover their pre-COVID level of activity, which is still 11 percentage points below the February 2020 level.
The good news is that in February 2022 international visitor numbers had quadrupled from 2021, although they were still well below pre-pandemic levels. COVID-related requirements for international travelers were relaxed only at the end of February. As a result, businesses in the tourism sectors should continue to benefit from the recovery in international travel in the coming months.
Employment boom came to an end
Labour shortages have begun to weigh on employment. The Canadian economy continues to create jobs, but only marginally. About 15,000 new jobs were created in April.  About 965,000 new jobs were created in the last twelve months, the majority being full-time (65% of new jobs). The involuntary part-time employment rate fell to 15.7 percent – the lowest level on record according to Statistics Canada.
The unemployment rate fell to just 5.2 percent, suggesting employment gains will prove increasingly difficult in the coming months since there are fewer workers to fill available positions.
Policy rate expected to reach 1.5 percent in June
The economic news in Canada is good, perhaps too good. Demand outpaced the country's production capacity even more in March, pushing inflation to 6.7 percent.
The Bank of Canada began its monetary tightening cycle on March 2 by raising the policy rate by 25 basis points. This was followed by a 50 basis points hike on April 13. As a result, the rate went from 0.25 to 1.0 percent in just six weeks. We expect the bank to raise the rate on June 1 by another 50 basis points to bring it to 1.5 percent – only a quarter of a point below its pre-pandemic level.
The impact on your business
Unless there is a major new development, COVID variants are having less and less impact on the economy. This means demand will be strong this summer, prepare your business accordingly, especially if you are in a tourism industry.
The strong performance of the economy increases the likelihood the Bank of Canada will raise its key rate by another 50 basis points in June. Lock in your rate as soon as possible if you are planning investment projects.
Workers will become increasingly difficult to find. If your company is still looking for employees, check out this study for advice.