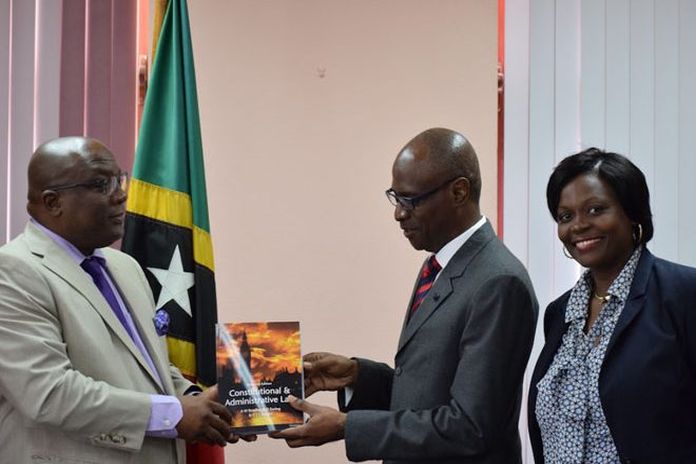 By Caribbean News Global contributor
BASSETERRE, St Kitts – A post on the bulletin board of the government's ZIZ Broadcasting Corporation is causing considerable concern and worry to many citizens, of St Kitts and Nevis in particular – during an election, held in a State of Emergency which the government refuses to repeal reads;
"Persons with queries who wish to communicate with the Court must do so by email addressed to the Registrar of the High Court. In St Kitts the email address is registryskn@gov.kn." 
The cause of distress and unease also centers on the Registrar of the High Court, Janine Harris-Lake, sister of prime minister, Dr Timothy Harris who was moved from that post in 2013 to the less powerful job of director of legal reform and then, as soon as Dr Harris became prime minister in 2015, was reinstated as Registrar and ex officio Magistrate.
What is even more worrisome is that in a recent matter involving Lindsay Grant, minister of tourism and former leader of the People's Action Movement (PAM), the majority party of the coalition government, Harris-Lake was "perceived as bringing political considerations into a strictly legal issue by accusing the Counsel for the Claimant" of a "patent attempt to malign [her]self and [her] brother as well as "the government of this Federation." She also seemingly overstepped her authority by claiming that the opposing Counsel's accusations were "baseless", appeared to be "politically motivated" and far exceeded "the ambit of reasonable representation."
In fact, the Judge in this case, Justice Ventose, pointed out that several other matters raised "serious questions concerning the confidentiality of court documents and processes."
Justice Ventose also said that the "court office may not under any circumstances, exercise any power albeit only a procedural one, of the High Court Judge or Master" and that "public confidence in the administration of justice in St Christopher and Nevis will be seriously and perhaps irreparably eroded if the public perceives that the court office pick sides in disputes coming before the court particularly where that dispute involves public figures, politicians or government officials." The Honourable Justice added, "systems must immediately be put in place to ensure that this never happens again."
Since there is no evidence that any "systems" have been put in place, and that the same people are doing the same things, almost certainly the same way, many people, especially the labour leaders, are worried about what will happen if they have to go to the Registrar with any matter, especially one that requires quick action.
During elections there are always legal concerns about voting, issues of identity, legitimacy, management of the process and counting of the results. What worries the labour party is that its requests to the Registrar may not be given timely attention, treated seriously or they may be accused of attempting to "malign" her brother.
An attorney linked to the labour party stated that the public response, especially by labour party supporters, demonstrates a serious level of concern about an issue that should have been already addressed by the High Court.
The attorney said, "The fact that the State of Emergency persists despite requests by many citizens and organisations, including Churches, for its immediate repeal gives rise to questions about the government's intentions and overall credibility. People are asking, 'What are they up to?' 'What are they planning?' I believe that the present environment is not the best one for an election and the legal process, especially the speed and neutrality expected if there are issues, needs to be clear and clean."