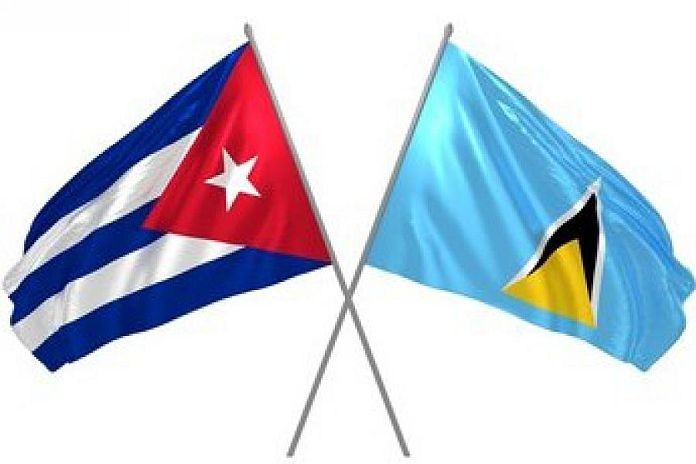 By Caribbean News Global contributor
CASTRIES, St Lucia – Saint Lucia and Cuba to continue improving and strengthening their cooperation in the area of health, the ministry of health, wellness and elderly affairs disclosed Wednesday, February 16, 2022.
The announcement followed a courtesy visit by the Cuban ambassador to Saint Lucia His Excellency Bernardo Toscano Sardinas with Chief Medical Officer (CMO) Dr Sharon Belmar-George.
"The visit provided an opportunity to review and discuss ways to enhance the cooperation between Cuba and Saint Lucia in the area of health," added the ministry of health, wellness and elderly affairs. " His Excellency Bernardo Toscano Sardinas spoke on the need to continue strengthening the bilateral ties between the two countries.
"We have here the Cuban medical brigade who works in all the areas on the island. We have a number of doctors, nurses and other professionals, health workers that they are working together with the doctors and nurses here in Saint Lucia and for us, it is very important to have that possibility to  improve and strengthen this collaboration with the healthcare programs."
Dr Belmar-George says this visit is timely and expressed gratitude to the Cuban government for their continued support and contribution towards the health of the nation.
"As we are aware the Cuban and the Cuban system has been an integral part of our healthcare system in terms of support for training health professionals and also providing us with speciality care in various aspects of healthcare and not just for physicians but nurses, pharmacists, etc, within the system. So, we were able to discuss how to strengthen that collaboration and moving forward and also looking for new ways that we can learn and get support from the Cuban system."
Dr Belmar-George says the courtesy visit also provided them with the avenue to engage in discussions on new developments in Cuba relating to healthcare such as vaccines.
"Saint Lucia's vaccination coverage as of February 14, 2022, is 28.5 percent – very far from achieving the 70 percent milestone, the ministry of health, wellness and elderly affairs, said Tuesday. " This milestone can only be achieved by widespread acceptance of the COVID-19 vaccines." 
Related: St Lucia's low vaccination rate concerns IMF and PAHO, says health minister
"The pandemic is still raging and COVID-19 continues to affect the population. […] While we have documented a decline in the number of reported cases during this current wave, we must continue to adhere to protocols, including vaccination as the most effective strategy. The ministry of health encourages everyone, especially the youth to get vaccinated. Presently, Saint Lucia is progressing towards the procurement of vaccines for children 5 to 11 years."
On February 8, the ministry of health announced the temporary unavailability of the AstraZeneca COVID-19 vaccine.
"The last stock in-country expired on January 31, 2022. Due to logistical delays, Saint Lucia has not received its next shipment. Regionally, other countries in the Eastern Caribbean are experiencing the similar situation. The public is assured that the ministry of health is making every effort to ensure that the AstraZeneca COVID-19 vaccine becomes available within the next week."
Related: Approval of direct purchase for AstraZeneca – Radical Investments Ltd