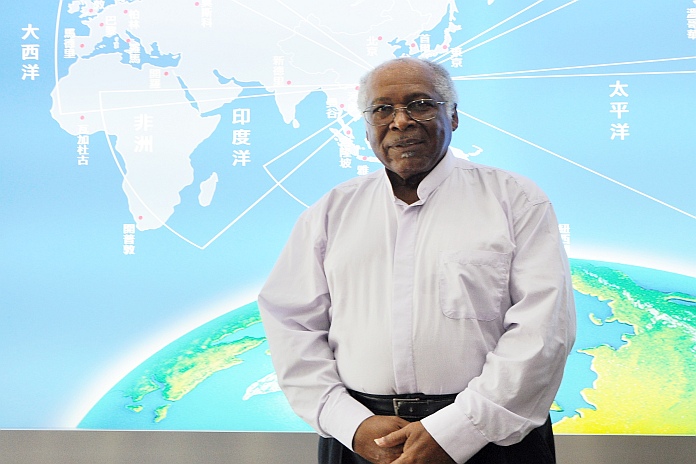 By Denys Springer
I begin this article citing Healey's first law of politics which states "when you are in a hole stop digging". That should have been excellent advice for the prime minister of Saint Lucia, currently rudderless and in pathetic shambles, unfit to be prime minister in the parallels of a dysfunctional democracy.
The reality is a country very conscious of a prime minister who seems to live in his little cocoon of an enclave, a parallel universe that Adolph Hitler assumed in the formation of alternative facts and reality.
Much of what he says is distant from the truth. His policy of lack-there-of it is geared towards his little cocoon/enclave, inclusive of his pals in the tourism industry, irrespective of the consequence on the health and economic well-being, and of the negligible resources of Saint Lucia.
His version of the parallel universe of disinformation – a dream-world of a tragic reality that attempts to maximize his brand of propaganda towards the 43 percenters. That fictional universe is a toxic brew geared to an obnoxious reality heading into the general elections.
The prime minister is fictional to what is emanating, inside and outside of Saint Lucia. It is obvious to me that he sees the country as a toy to do whatever he wants, even to destroy, fitting to his childlike mind. Therefore, I agree with the wise words of William Lloyd Garrison who was emphatic when he wrote that "with reasonable men", not boys "I will reason with humane men I will plead, but to tyrants, I will give no quarter nor waste arguments where they will certainly be lost".
This is visible with the Chastanet- led administration who failed to take on the sound advice of the leader of the opposition, Philip J Pierre, and who pleaded with him that COVID-19 should have been an all-party matter, among other advice given to him that would have saved the soul of the nation, "Putting People First."
Instead, the prime minister and his disciples of misinformed tyrants, operating in a fictional universe continued to bombard the public with lies, innuendos and fabricated stores. The result of a dysfunctional democracy, deliberate and calculated, resulting in Saint Lucia presently.
I, therefore, believe it is appropriate at this juncture to put Kahlil Gibran question to the prime minister: "Are you a politician who says to himself I will use my country for my own benefit" – friends, foreigners, and family (FFF), "or are you a devoted patriot, who whispers in the ear of his inner self I love to serve my country as a faithful servant". The latter is not in the prime ministers' repertoire, having said: "I am a product of Canada".
Notable that the prime minister is always talking, saying much to the storyteller of unworthiness and in conflict to the understanding of international organisations, continues to advance election projects and the plunder of marginal resources, that should be directed to COVID-19 response.
International Monetary Fund (IMF) managing director Kristalina Georgieva at the 2020 Paris Peace Forum, said:
"The question in front of us is: are we going to step up yet again and build greater resilience to the shock we are facing now and those to come in the future?
"In other words, is 2021 going to be a year in which we write yet another 'Tale of Two Cities'—more inequality within countries, across countries, across generations? Or will 2021 be the year in which we come together to build a more prosperous, more equitable, more sustainable world?"
Addressing the World Health Assembly #WHA73, WHO director-general called for:
"Leadership built on mutual trust and mutual accountability – to end the pandemic and address the fundamental inequalities that lie at the root of so many of the world's problems.
"We cannot afford ever-deepening inequalities and expect continued peace and prosperity. We must choose. And we cannot afford to see health merely as a by-product of development, or a commodity that only the rich can afford."
Consider the above with the mindset of a Chastanet-led administration and projects that are being done in conflict with the reality that healthcare, research and development funding need a reality cheque – is made more obvious in the era of COVID-19 and the probability of more infectious diseases.
In effect, the thought of being helpless and ineffectual creates a despotic prime minister to that of Adolph Hitler, being of the false narrative like his United Workers Party (UWP) propagandist to easily fall victim to falsehood.
The IMF managing director advises governments to "spend wisely" however,  "we don't want accountability to be lost".
Therefore, it is now important for those in the UWP and government to realize that the time has come to consider their response to tragic conflict of interest.
Alexander Hamilton ponders a key question. "What is a legacy," he asks. " It's planting seeds in a garden you never get to see."
The mutual responsibility should be to plant the right seeds now, developing the right national policy above the political divide, the introduction of governance and accountability – so that future generations can share a harvest of common sense and common honesty – making government work again – for the benefit of all.