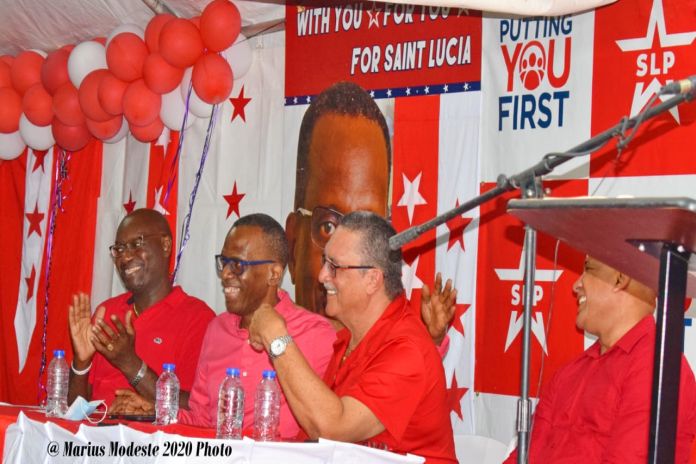 By Caribbean News Global contributor
CASTRIES, St Lucia – Former political leader of the Saint Lucia Labour Party (SLP) and prime minister, Dr Kenny D. Anthony, has stumped the United Workers Party (UWP) peddlers of the said leadership rift in the SLP asserted: "This country needs Philip J Pierre because 'he understands the soul of the people of this nation'. "
Speaking on the theme, 'We are Stronger Together', during a momentous annual general meeting of the constituency of Castries East on September 26, 2020, Dr Anthony expressed his delight for the opportunity "to give honour, praise and support to our political leader, your parliamentary representative, Philip J Pierre.
"Dr Anthony's very presence at the East Castries conference would have been enough to destroy the lame attempts by the leaders, operatives and online trolls of the ruling UWP to spread propaganda about a said rift between Dr Anthony and Pierre. The obvious objective is to create doubt within the SLP base," the SLP said in a statement Tuesday.

Famous for a structured method of deactivating political landmines, Dr Anthony questioned the emergence of talk of a rift between two colleagues of the same party who had spent so many years working in harmony, setting records in the process.
"By the way", Dr Anthony exclaimed, "We are now the longest-serving parliamentarians in our party, having served our respective constituencies for 23 unbroken years. Indeed, we have much to celebrate together. And together we intend to make it five more years."
Dr Anthony preserved that only the politically dumb in the UWP can see enmity in a peaceful transition of power in a rival party and posed the rhetorical question: "What type of leadership is required in these times?" He presented the answer: "My time at the helm of this great party has passed. When I entered politics in 1997, I brought theatre, glamour and colour to campaigning. Our party must re-invent itself to face the new realities. Philip Pierre is his own man and must be allowed to be his own man," he emphasized.
Referring to a brilliant address on the iron laws of leadership last year, by party soldier, Claudius Francis, Dr Anthony endorsed the position that Pierre is "a leader you can trust".
Dr Anthony explained:
"This is not a time for glamour and theatre. This country needs a Philip Pierre because he understands the soul of the people of this nation," the former prime minister added. "We sat in the same cabinet for three terms. Philip understood the pain, the fears and the anguish of our people and never failed to advance or plead their cause. This is why Philip could say to Chastanet, "stop giving away the resources of the country to his friends, his family and foreigners and put our people first.
"This is a time for a sound technician; a leader who understands this economy and has the will and courage to act. 'This is Philip's time' and the SLP has never lacked courage and will to act in the interest of the country when it needs to do so.
"We have been insulted, bruised and battered. Our country needs healing. We need the firm but gentle spirit of Philip Pierre to heal this nation. We need a leader who can calm the angry, the troubled and the dispossessed."