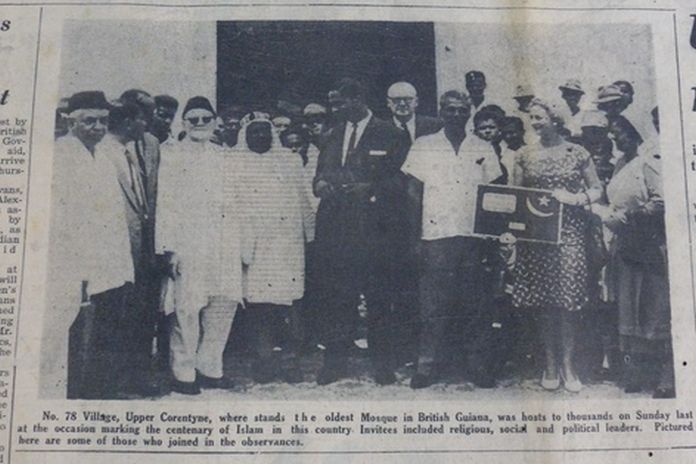 Dear Sir
We are in another Mahe Ramazan (Month of Ramadan), and I share with your readers a little bit of our Muslim history. Recognizing the efforts and sacrifices made by past generations to institutionalise Islam in Guyana, amidst a sea of evangelism, from times of slavery to the period of independence, we are grateful to them.
There is evidence of  Anjuman (Jamaats or associations) and mosques, and some of these organisations were registered since 1863 in Guyana to address the needs of the Muslim communities. Some formally and some informally. There is evidence that the founding of the number 78/79 Masjid (Mosque)was founded in 1863.
There isn't conclusive evidence of the first constructed mosque in Guyana. That could have been during the era of slavery or was it the 1863 #78/79 Mosque or the Philadelphia Mosque on the East Bank of the Essequibo which was alleged to have been "built in the 1860s."
In 1999 several Muslims groups, The Central Islamic Organisation of Guyana (CIOG), the Guyana Islamic Trust (GIT), the Guyana United Sadr Islamic Anjuman and the Anjuman Hifazatul-E-Islam gathered at Philadelphia, Guyana to "Marked the site where the first masjid (on the South American continent) was built by Guyana's indentured Muslims in the 1860s."
They did however note that "with more work and scholarship, future studies can be undertaken to bring more clarity and accuracy in learning more about Guyana's first mosques." But one thing is certain, since the second wave of Islam in Guyana in 1838, from India, Afghanistan, and what is now Pakistan, Muslims have built many mosques and formed several organisations to preserve their history and culture.
Evidence shows that Sobrattee, son of Hussein, arrived in Guyana in 1859 on board the Ship, Aurora when he was 30 years old and indentured to Skeldon. He is cited as one of the chief founders of the Number 78 Mosque in upper Corentyne, Guyana, which was part of a very large sugar plantation, Eliza and Mary, and with a strong Muslim presence. Muslims took up residence close to each other and sometimes occupied an entire street.
The first Mosque in Guyana can't be the Philadelphia, East Bank Essequibo. The timeline is off. Its founder, Hazrat Chand Khan was a teenager when he arrived in British Guiana in November 1866 on board the Atlanta with his parents Hazrat Lall Khan and Ulfaat Begum from Benares at age 15. Chand and his parents were indentured to Plantation Uitvlugt.
However, the Number 78 Mosque, originally built at #79 Village was founded in 1863 according to an article in the Guyana Chronicle of September 7, 1963, to commemorate the Centennial of the Mosque. This aligns well with the timeline of Sobrattee and his brother, Sohabeth's arrival in 1859. Sobrattee was 30. At the age of 30, Sobrattee would have been a solid man with great wisdom to lead the founding of the 78/79 Village  Mosque. Thus, it's not surprising that some of his children and descendants were Majees (Moulvis) in the Skeldon area and elsewhere in Guyana.
Intriguing is the fact that Sobrattee's migration to Guyana took place during a major turning point in India's history, the 1859 uprisings that witnessed astounding and rebellious Muslim visibility.
The Ulema of Guyana spanned from Essequibo, to Demerara and Berbice, and included Al Haj Hazrat Ramjohn (Ramazan), Hazrat Mohammad Ahmad Nasir, among many other wise and intellectual Musalman. In presenting their research to commemorate the Centennial of the # 78 Mosque in 1963, they said, "extensive and exhaustive research has revealed that the mosque was built in 1863 by Sohabeth Subrati, father of the late Moulvi Ibrahim; Ishmile Shahabuddin, Wajid Ally and Khadmi, mother of Messrs, Dookie, and Sankar. They "showed keen interest in Islam and it was by their instrumentality that they have been fortunate to acquire a piece of land and built a small mosque."
Like in many cases in Guyana, a family could have several of their names spelled differently. His name is written as "Sobrattee" on his immigration records but varies on some of his other records.
The story of Khadmi is of great interest. She was married to Ramessar, an Indian-born Brahmin who converted to Islam. They had two sons, Seesankar (Maula Baksh) and Dookie (Khoda Baksh). Ramessar may have been the first Hindustani Goldsmith in Skeldon in the 1880s after he returned from India in 1880. Ramessar took his family to India but abruptly returned to Guyana after the family discovered that he had converted to Islam and assimilated with Muslims. On the birth certificate of  his grandson, Aminul Ahmad Sankar, Ramessar is recorded as his "grandfather" who was a "Goldsmith from # 79." From Seesankar, the name changed to Sankar from this period.
It is worth mentioning that Sankar's wife, Sakinatul, was the eldest sister of Kabul (Kabil) Khan, Nur Khan, Shehzaadi and Zainab. Zainab Khatoon was married to Ibrahim Majee, a descendant of Sobrattee. Shehzaadi Khatoon was married to Hazrat Abdul Rahaman in 79. The two brothers were Nur Khan and Kabil Khan. Kabil Khan's wife, Imaman, was from Wakeenaam. It demonstrates yet another piece of historiography, that from one end of Guyana to the other, Corentyne, to the Essequibo Islands, our families were connected. And I speak of all Muslim Guyana in this context. It's a common habit of the survival of a minority community to do so.
Ghanim Khan, a well-known Guyana cricketer, was one of Kabil's sons. Their mother Goolmani Khatoon, and her infant child, Sakinatul were kidnapped from Benares, India in 1878 and sent to Eliza and Mary. Another one of Kabil's sons, Imamuddin was president of the # 78 Jamaat in the 1960s.
Sobrattee had several wives and a number of children. Into his 50s he was fathering children. He had at least three sons, Abdul Karim, Ibrahim and Kassim (father of Jean and Sunny Kassim). Abdul Karim likely was born in 1887 at 78 Village and died at Peter Hall, EBD on November 19, 1935.
The original site of the 78 Mosque was at Number 79 Village, where Mohammed Ezammudeen, a great-grandson of Sobrattee lives today. The mosque was moved from #79  to its current location at # 78 Village. Eventually, the simple structure was moved to its current location.
Returning from Makkah, the Middle East, and India, the masjid was modernised by the gigantic efforts of Al Haj Ramzan who garnered support to build one of the most beautiful mosques in Guyana. He didn't hesitate to go deep into his pockets to finance the expensive project.
According to Mohammed Ezammudeen, Sohabeth Sobrattee isn't one name but the names of the two brothers, Sohabeth and Sobrattee. Research continues to bring more light and clarity to the founding of the 78 Masjid, and I welcome any help from the public.
Sadly, the original mosque was demolished to erect a mega-structure about two decades ago, which lacks asceticism.
Mahe Ramazan Mubarakho
Ray Chickrie