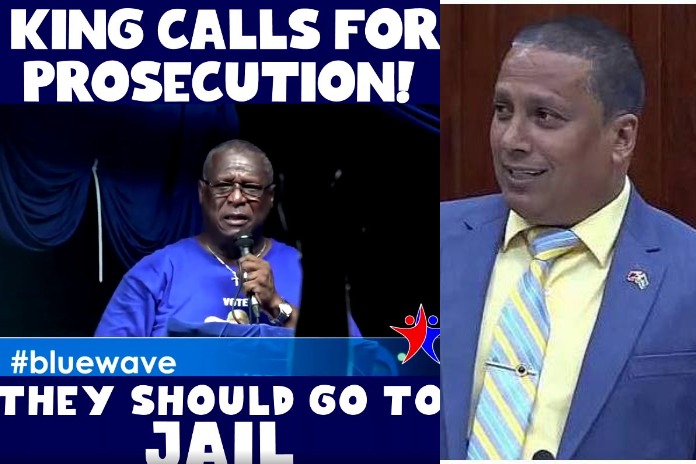 Dear Sir
My inquisitive mind questioned the inclination of hearing minister Guy Joseph say he has a book on Stephenson King, let alone believe that he has the aptitude to read the contents.
Moreover, the King, who recently jumped ship from the United Workers Party (UWP) and has registered to contest the July 26, election as an "independent candidate", says "I have a whole library on him (Guy Joseph)."
According to King: "They must go to jail for that St Jude hospital project."
My mind easily referenced 'the Blue King" political association with the United Workers Party (UWP) dealings, his ministerial tenure as prime minister and as a Cabinet minister, for many Moons.
If I am not missing something, the analysis is correct that "they must go to jail for that project" – however, who will be holding the keys?
Is it the "Blue King", his favourite contractor and ostensibly money man, utilizing the antinode of "trustworthy, loyalty and tolerant."
In my sparse listening to the "Blue King" currently branded as "a patriot" which I am not convinced, based on knowledge and experience, leaves much to be desired.
The recent applause of independent candidates is nothing new, to others that triumph the path years ago, ahead of their time (as the local vernacular goes) only to be snubbed. And interestingly, the "Blue King", has not ruled out a fourth political party in Saint Lucia.
On Tuesday, the "Blue King" also alluded that should the 2021 general elections is a close call, he supposedly sees himself as a "King Maker", to form the new government of Saint Lucia. And interesting enough, he fell short, despite ample opportunities, to endorse Philip J. Pierre political ascendance as the next prime minister, however, gave relevance to Pierre's experience and capabilities.
And in keeping with the "new wave", it remains to be seen if the many personalities that are suddenly coming out of the woodwork, finding their voice after five years of silence, days before a general election, have finally been squeezed out of the " Five for Five" are positioning for a new lease on life.
Monica Fevrier