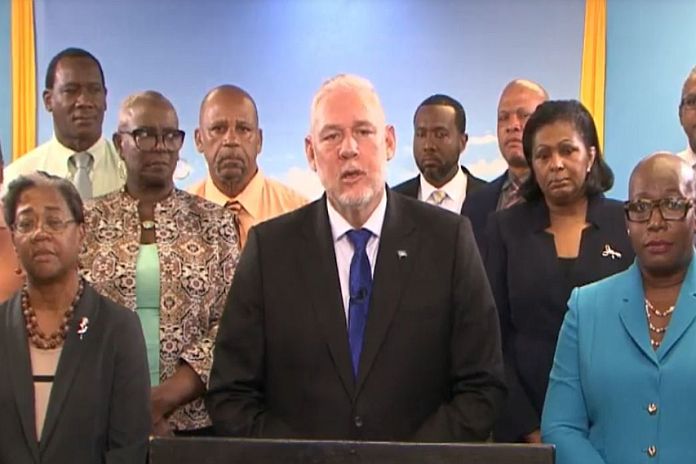 Dear Sir
This concludes the two-part series letter, that illustrated in Part 1 – three points to reference the eponymy and palpably surrounded by COVID-19 pandemic in Saint Lucia; and how the Saint Lucia Labour Party (SLP) led by Philip J Pierre is playing his cards beautifully.
Fourth
The copy-cat so-called COVID-19 telethon further exposed dysfunctional-leadership and the disconnect in our society. As a young person, I don't identify with what passed, as an effort to help 'frontline workers' purchase personal protective equipment (PPE).
Again, from my mental faculty, a government unable to provide for its 'frontline employees, essential workers, medical staff, police, soldiers, etc, and depends on charity, is exposed to corruption, nepotism, and is unfit to govern. To add insult to injury, a prime minister worth his salt – should have simply made, let's say, 12 phone calls to his anointed Family, Friends and Foreigners (FFF) in the context of the patrimony of Saint Lucia that he has gifted to date.
The notion that myself as a young person and the people of Saint Lucia should be grateful for EC$2.5 million, inclusive of the combined Cabinet contribution of EC$10,000 and Teo Ah Khing EC$205,000 is disrespectful. This feverishly adds shame to misery. To be frank, this so-called COVID-19 telethon was a political event and second, it was a public relation exercise that has the stench of quid pro quo.
If you look well enough, it is of interest to scrutinize the donors, their business endeavors, their association with the Cabinet, their source of income/capital flow – internally and externally, there attributed Mafiosi recognition in Saint Lucian and elsewhere. In essence, they have shown their hands and in-time should be made to account.
Fifth
On the matter of governance in a democracy of first past the post and the influence of the moneyed class; the opposition cannot invite itself to and/or impose itself on government sanction events and activities. They must be invited and/or be part of the process at the request of the prime minister. Also, in the interest of the so-called COVID-19 telethon, one must remember he who donates and pays the bills, has influence over the government and calls the shots – regardless of ideology. Period.
To understand further, one may also study the prime ministers 'phased reopening of Saint Lucia's economy' in the advent of the so-called COVID-19 telethon and juxtapose this with measures that address health systems, a lack of access to routine essential health services, as well as the social-economic impact, international norms and practices.
Conclusion 
In summary of the mendicant government of Saint Lucia and what unfold before my eyes on the Easter weekend, witness men of Dr prefix to there name practicing COVID-19 socialism politics, claiming to feed 'inner-city poor people' is an extension to prostitution.
So clearly, the UWP's and their surrogates were unable to understand why and how the SLP led by Pierre is played his cards beautifully. In essence, that's what thinkers do. They are not predicated on the folic of deception. And a prime minister show says – we are ALL IN – working and coming together to combat COVID-19 while the dishonesty and bluff continue.
The fact of COVID-19 is such that the government will need a lot more telethons and soup kitchens because the reality is grim. The government is not honest and forthright. The proposed path will lead to individual and commercial bankruptcy, towards a failed State.
So, as far as I am concern, if the government is not changing its premature, calculated and deliberate ways, then Pierre is playing his deck of cards beautifully, not to participate in 'feeding' able-body people like me, who are keen to work and care for myself and family.
A serious government that cares about frontline staff in this COVID-19 pandemic would immediately grant full-time employment to sessional nurses and part-time doctors currently involved in our medical system.
This is simple to understand, and while most people excluding the prime minister's 30 percent "illiterate" class regrettable chose not to understand Pierre's statement that SLP was not invited to the national telethon, should revisit the fifth point above.
The Plea
I urge everyone, in particular, young people like myself to go beyond the immediate and temporary shopping bags of food, specially design for political advantage, and the preparation of 5,000 meals/soup from inactive hotel kitchens, that taxpayers will have to pay for, in-kind, via tax and other models of concessions, and Cabinet discretion, is not a free and unreserved gesture.
The underlying fact Pierre reminds us all is such that, the SLP has consistently supported and advocated for front-line health workers and other medical personnel. The SLP was instrumental in the training of hundreds of doctors and nurses in Cuba and the introduction of the Cuban health brigade as well as the miracle eye care program; it was an SLP government that commenced the construction of the Owen King European Union (OKEU) hospital and fueled the complete remodeling of the emergency health services at Victoria Hospital.
So yes, the UWP's and surrogates were taken aback and caught flat-footed, because of Pierre's preventative strike and mastery of playing his cards. He caught his detractors by surprise, reacting bashfully to irrefutable scientific facts.
Related: The mendicant government of St Lucia caught flat-footed: Part 1
Monica Fevrier