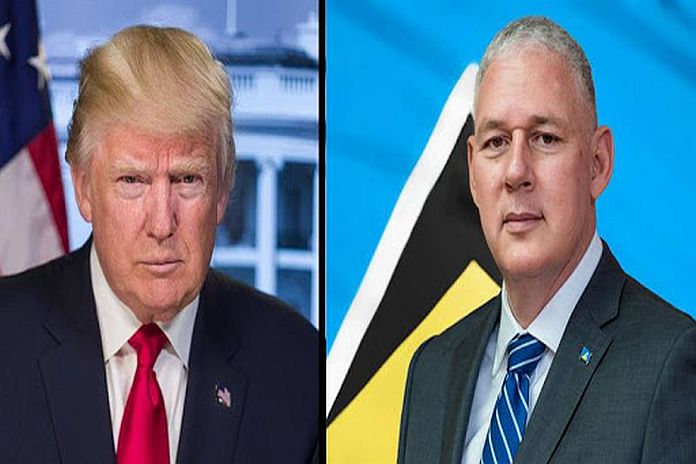 Dear Sir
Two matters of gross hypocrisy by the United Workers Party (UWP) Allen Chastanet, aka 'Tropical Trump' and by extension, the government of Saint Lucia, that crossed me last week requires 'bringing the truth to light' according to a well-known journalist and the hypocrisy of it all.
My first objection to hypocrisy has to do with the statement by Allen Chastanet, prime minister of Saint Lucia congratulating Dr Hyginus "Gene" Leon appointment to the presidency of the Caribbean Development Bank (CDB); and the second, relating to Saint Lucia's "pledged" and full support to US president Joe Biden and vice president Kamala Harris.
Under normal circumstances both statements would suffice. However, given the realism of facts and truth, the utterances are aberrant. Allen Chastanet congratulating Dr Leon can be described as gross hypocrisy, and perhaps a natural state of being a complex of relevance.
According to sources familiar with the process, etc, allegedly, Saint Lucian authorities were not minded and/or inclined towards Dr Leon. If they did, at the last moment, under pressure and the cloak of secrecy out of shame, the result was already obvious. Saint Lucian support and canvassing for a neighbouring island candidate alongside, Bajan authorities is not cool.
For the record, Dr Leon was also a candidate for the top position of governor of the Eastern Caribbean Central Bank (ECCB) and head of the Eastern Caribbean Currency Union (ECCU).
So while it is true that, "Dr Leon follows in the footsteps of one illustrious son of Saint Lucian soil – our Nobel Laureate Sir William Arthur Lewis," it is gross hypocrisy for statements attributed to the prime minister that it " is an especially proud moment for Saint Lucia," when the gross hypocrisy of Chastanet's leadership is a common joke in Washington DC, the Caribbean and the world. (Although Peter 'PA1' Josie says … Allen Chastanet is an international kind of person. Wherever Allen Chastanet goes he is known.) For what, may I ask? 
The full text is a branch of linguistics and logic, unconcerned with meaning, concluding with: "We very much look forward to working with him on the development agenda for the region. I invite all Saint Lucians and OECS citizens to join me in extending congratulations to Dr Leon."
My second objection to hypocrisy has to do with offering two-faced "congratulations on behalf of the government and people of Saint Lucia" that further "pledged its full support to United States president Joe Biden and vice president Kamala Harris."
Again, the written words exhibit gross hypocrisy from a prime minister who made it a point to defy Caribbean heads of government and to sheepishly join leaders of The Bahamas, the Dominican Republic, Haiti and Jamaica in March 2019, to meet Donald Trump at Mar-a-Lago.
There is also the economic, political ideology and affiliation that is very problematic. And up to early last year, were seemingly sharing political consultants with the republican party with the hope of "teething the 2021 elections".
So, what about Allen Chastanet? Whom does he represent? "What did Saint Lucia gain?"
Read more: Prime minister releases statement on meeting with US president Trump
"Let me tell you something about Donald Trump – he knows how to make a deal," Chastanet declared in 2019. "I want to thank you for the support and leadership you have been providing for the region," the PM says to Trump.
So bear in mind that Trump is gone and Chastanet is next, the "pledge of support" to a Biden-Harris administration says, "Saint Lucia's success is closely linked to that of the United States. We recognize the enormous challenges faced by this new administration," he wrote on his official Facebook page. "And we pledge our full support as a partner and ally particularly as we work together on defeating the greatest existential crisis of this generation."
And wait for the identity crisis. "We also commend vice president Harris on her history-making achievement," while "declaring that Saint Lucia is excited about what it could mean for the region having a person of Caribbean heritage in 'this position of leadership."
As with previous, perhaps Chastanet and his UWP's have changed allegiance, "like a thief in the dead of night" and are now Democrats personified. Who knows?
Perhaps, events of January 6, 2021, on Capitol Hill has the UWP and government of Saint Lucia running scared, wanting to be on the right side of history. So it appears, they are too afraid to call the general elections, constitutional due July 11, 2021, and elections held on/or before October 11, 2021, over fear of defeat at the polls.
Sincerely,
Monica Fevrier