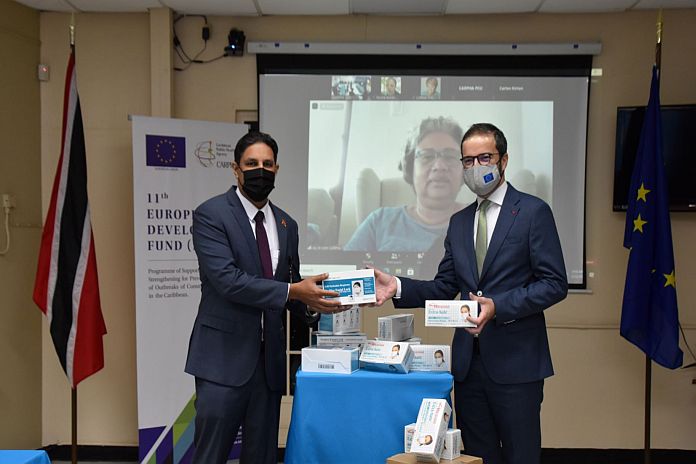 PORT OF SPAIN, Trinidad – In a handover ceremony on March 23, 2021, the European Union together with the Caribbean Public Health Agency (CARPHA) provided the government of Trinidad and Tobago with personal protective equipment (PPE) comprising 7,500 N95 respirator masks and 13,000 surgical masks.
The supplies were procured through the 11th European Development Fund (EDF) programme of support for health security strengthening for prevention and control of outbreaks of communicable diseases in the Caribbean which is being implemented by CARPHA.
This protective equipment will help frontline workers to stay safe while performing their duties amid the COVID-19 pandemic.
"We at CARPHA are pleased to provide support to the government and People of Trinidad and Tobago in their continued fight against COVID-19. This ceremony today signals our continued efforts to provide assistance to the citizens of our Member States. CARPHA works closely with Member States to identify needs and provides support, to meet those needs," said Dr Joy St. John, CARPHA executive director.
Dr St John expressed appreciation for the continued support of the European Union to fight the COVID-19 pandemic. She stated "The EU has provided support to aid CARPHA Member States' national COVID-19 preparedness and response and has financed the procurement of much needed medical supplies, inclusive of Personal Protective Equipment. This provision of PPE to Trinidad and Tobago would not have been possible without the unwavering support and commitment of the European Union."
Sanjin Soldatic, Charge d'Affaires at the EU Delegation to Trinidad and Tobago stated: "Being here today is yet another demonstration of our support and commitment to Trinidad and Tobago and the other Member States of CARPHA in responding to the COVID-19 pandemic. Literally within weeks from the beginning of the pandemic, the EU signed a EUR 8 million programme to support Caribbean countries in the outbreak control operations through CARPHA, with an immediate disbursement of almost US$ 6.8 million.
Trinidad and Tobago is one of many benefitting from the work of CARPHA and one of 12 countries to have received protective equipment from this programme. Provision of this equipment is only one of many planned interventions. Additional equipment, technical assistance, and guidance will form part of our shared strategic approach aimed at strengthening the capacity of public health systems in the region to deliver quality and efficient health services."
Speaking at the ceremony chief medical officer, Dr Roshan Parasram brought remarks on behalf of Terrance Deyalsingh, minister of health. He recognised the efforts of CARPHA to coordinate, among other public health priorities, the response to public health emergency of the COVID-19 pandemic, stating: "I would like to particularly thank CARPHA for the support provided to Trinidad and Tobago, and other CARPHA Member States, for diagnostic testing for COVID-19, and at the same time, acknowledge the support of the European Union to strengthen CARPHA's testing capacity through the provision of additional human resources, reagents and equipment. CARPHA has been a true friend to Caribbean Member States – they walk with us in the light, but they also hold our hand in the darkest night."
The EU Grant seeks to improve health security and strengthen the capacity of CARPHA Member States for the detection, surveillance, prevention, control and response to epidemics of communicable diseases, such as COVID-19. The Grant supports CARPHA Member States' national COVID-19 preparedness and response and has financed the procurement of requisite medical supplies. This EU Grant is part of the much larger 11th EDF African, Caribbean and Pacific (ACP) Programme to strengthen health systems for Universal Health Coverage (UHC). The Secretariat of the Organisation of African, Caribbean and Pacific States (OACPS), an important partner of CARPHA, has supported the Agency's access to these important resources for its regional COVID-19 response.